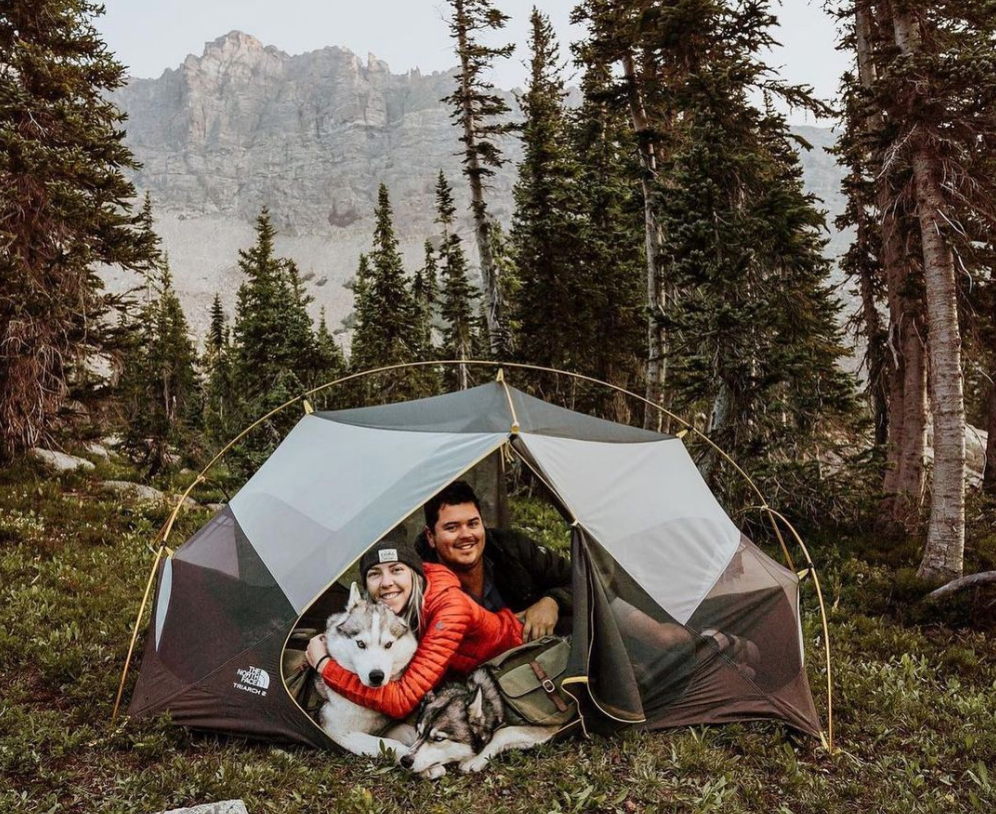 Posted on
---
Photo: @_ends_of_the_earth_
If you're opting to spend some time with your furbaby in the snow-capped mountain peaks of Colorado, with sparkling lakes, vibrant rocky outcrops, you'll find that the stunning scenery will keep you coming back year after year.
The Centennial State draws upwards of 85 million tourists each year. Even Colorado's "metropolitan" areas feature lush green spaces and natural attractions that keep folks returning year after year.
Denver is one of the most populated cities in Colorado, but that doesn't stop its citizens from spending time in nature. The city boasts a great surrounding area for enjoying outdoor activities all year long. 
A popular activity is camping! With many dog-friendly campsites to choose from, you can enjoy these great activities with your furry family member. In this blog, we're going to give you our top picks for dog-friendly Denver, Colorado campsites. 
Here are some top picks for Denver dog-friendly campsites for your furry friends:
 Photo: @Jaymehuster 
Cherry Creek offers Fido the next level in outdoor adventure bliss because it includes an off-leash doggy wonderland! The dog park is canine bliss, home to almost 110 acres, including a swimming creek, open fields, and trails. Note, this campground fills up fast, so book your reservation well in advance. 
Dog-friendly camping is a fun and affordable way to introduce your dog to the great outdoors. Many campgrounds welcome dogs, provided they are leashed and supervised at all times. 
Photo: @ruffryder.retriever
Float your boat in the lake, bicycle, or hike on a trail with Fido that provides scenic views of the neighboring foothills and Platte River valley, camp, ride a horse and even fly a model airplane - all at Chatfield State Park, nestled next to the foothills southwest of Denver. ​​​​
This is a dog-friendly campsite in Denver, Colorado. This park features 70 acres of fully fenced open space with miles of walking trails, two ponds, water fountains, grassy hills, tons of socializing opportunities, mountain views, and more. This park is excellent if you're looking to trail ride a horse while spending one-on-one time with Fido.
There are 197 campsites for tents, trailers, and RVs (up to 40 feet long), including electrical sites during the summer months. For the rest of the year, only electric sites 38 through 110 are available. A few spots can be reserved in advance, the remainder on a first-come, first-served basis. Flush toilets and showers are located throughout this Denver dog-friendly campsite.
Photo: @lil_lumi1
If you don't feel like roughing it when camping with your dog, check out Highline Lake State Park. This Denver dog-friendly campsite has various options, including a luxury yurt, deluxe cabin, and even an off-leash area for pups.
The list of amenities assures visitors' comfort while lodging in this Denver dog-friendly campsite. Each modern cabin features a kitchenette, fireplace, TV/DVD player, and gas grill.
In addition to standard amenities such as picnic tables and charcoal grills, the yurts include everything from bedding to electricity! Highline Lake is home to a wide variety of birds, as well as a stopping place for migrating waterfowl.
This park is connected to miles of trails and close to communities and makes an ideal base camp for exploring the Grand Junction area. Whether passing through on mountain bikes or as an end destination, the park welcomes campers, anglers, families, and groups.
Photo: @m.e.g.a.n_l.e.e
Google reviews are extremely positive.
 "Excellent and challenging area with multi-use trails and rewarding vistas at every turn. There are a lot of different trails to take, so you can have a different experience every time you go back. The rock scramble to the top is especially fun with a 360-degree view! On this trip I took pretty direct paths to the top and back, which made my hike around 6 miles total."
 The scenic 2,711-acre Horsetooth Mountain Open Space (Culver, Soderberg, and Hughey Open Spaces) covers elevations from 5,430 to 7,255 feet. Its 29 miles of hiking, biking, and horseback riding trails connect to the Blue Sky Trail and Lory State Park trails.
Delight in the natural beauty of Cheyenne Mountain State Park with Fido, where you can enjoy hiking and fishing or spend time relaxing with friends and family at this dog-friendly campsite.
​​​It's 33 miles south of Denver off I-25 at exit 150. Here's the takeaway with Cheyenne Mountain State Park: Explore nature's diversity with prairie-to-peak ecosystems. There's also. Twenty-eight miles of trails for hiking, biking, with designated paths for equestrian and dog users.
The only trails open for dogs' use are Raccoon Ridge, Acorn Alley, Bobcat Way, and the selected portion of Soaring Kestrel. Look out for Limekiln Trailhead that offers parking, restroom facilities, picnic tables, and a playground. You can also opt for handicap accessible, picnic areas that are scattered throughout the park, each with its table and grill. 
At Cheyenne, you can enjoy hiking with your dogs, wildlife viewing, or biking on our 28 plus miles of trails waiting just for you.
Camping on Crown Mountain Off-Leash Dog Park is an excellent choice for residents looking to camp with their dogs in a relaxed atmosphere. Campsites are very affordable, and all sites have picnic tables and fire pits available for use.
One of the best features of this Denver dog-friendly campsite is the off-leash dog park which adjoins the campgrounds. Your dog will love running and playing with other dogs in a safe environment while you relax and enjoy your vacation!
This dog-friendly campsite boasts mountain scenery mingled with magnificent campgrounds. The campgrounds feature modern, universally accessible recreation areas and a five-mile-long reservoir for memorable days and nights.
It's only 15 miles from the town of Ouray. Ridgway's great outdoors - the "Switzerland of America" - welcomes those passionate dog lovers from near and far. The park's popular campgrounds feature a beautiful reservoir, picnic and playground areas, extensive trails, and diverse wildlife. 
There are also all-year-round activities for outdoor enthusiasts and a swim beach for the entire family to enjoy. Bears have been seen in the area, so you'll need to use bear camping protocols and take extra precautions to keep dogs safe.
Dog camping tips:
If you do some extensive research before hitting the road with your pet, it's almost sure that you'll have an excellent time camping with them. Here's the takeaway:
The most important thing about camping trips to remember is that dogs need a lot of exercise and attention to be happy. You can't just throw them into a tent for the weekend and hope they'll be fine. They need walks, they need to play with other dogs, and they need to cuddle up beside you for snoozes every once in a while. 
 Don't forget your dog's food! Most campsites have dog food available for purchase, but there's no reason to get your dog used to eat something different than what they usually eat. If you're worried about cooking for your dog in the great outdoors, then bring a stove and dishes they are familiar with. 
Dogs can't exactly go in the water when camping, so if you're going to a lake or the ocean, then make sure your dog knows how to swim. You may even want to invest in a doggy life jacket for dogs who don't know how to swim independently. 
Keep your dog on a leash. Some campsites have strict rules about dogs, and they'll usually post notices at the site entrance about them. You don't want to ruin your camping trip by getting kicked out of the campgrounds just because Fido ran away from you. 
 Finally, don't forget to have fun. Hiking around the campgrounds with your dog can be a ton of fun, especially if you're visiting a national park that has lots of trails through the stunning wilderness. 
 Be sure you bring any medications your dog needs in case of an emergency. This includes a pet first aid kit, pet meds, supplements, and anything else your veterinarian recommends. It's not fun to have to go back home during a camping trip because of a dog health emergency.
Camping is an excellent way to spend time with family and friends, and it's also a great way to reconnect with the great outdoors after spending too much time indoors. The best thing about camping is that it can be as casual or as organized as you'd like it to be.
Finally, make sure your pup has a dog hiking backpack for a little added flair and the appropriate dog training gear for the outdoors, like a durable dog leash and collar. Bring along his favorite denim bandana and a few dog camping tennis balls for some extra fun.
Dog hiking gear for outdoor camping
If you're new to camping, then there are some essentials you should bring with you when you go. These include a tent, backpacks, cooking supplies, food, water containers, and much more.
Your dog can come along for the ride if they are well-behaved and trained enough to handle being away from home for several days. To ensure that your dog is well-behaved and safe while camping, here are some tips:
Make sure you bring the appropriate dog gear with you when you go. A durable dog hiking leash and dog camping collar will keep your pup close by when outside the tent at night. It's also wise to bring a dog bed to ensure that your puppy sleeps comfortably at night.
In addition, bring along a lightweight doggy backpack for any hiking you plan to do throughout the day. Your dog will love carrying their supplies in this pack, and it's great exercise too.
Bring a portable dog camping water & food bowl with you so that your dog can have fresh water every day. All you need is a simple bowl that's lightweight and easy to carry around with you throughout the day.
Bring your pup's favorite denim bandana with them. If there are other dogs at the campsite, then they'll be able to sniff each other as they become friends! Plus, the bandana makes for a fun photo opp.
Finally, bring along your dog's favorite dog food in case you can't find any at the campsite. 
Check for the availability of dog-friendly amenities
Once you arrive at your chosen campsite, you should consider all of the available dog-friendly amenities. Fortunately, most of these sites provide dogs with the necessities such as a dog house, bowls for food and water, and poop bags.
If you want to be extremely thorough, it would also be wise to check if there is a designated area for pets and pet parents.
Assess nearby attractions
The main reason why you're bringing your furbaby on this trip is, so you don't have to leave them behind at home. To ensure that everyone has a good time, you should choose campsites close to fun outdoor activities like hiking trails and swimming spots.
It will also help if there are plenty of amenities around, like convenience stores, restaurants, and animal hospitals in case of emergencies.
Dog-friendly campgrounds are readily available all year round. They vary in amenities, distance to exciting places, and how busy they get during peak seasons.
Final thoughts
Camping with dogs is a fun activity anyone can enjoy, and it's incredibly wonderful with your dog. Your furbaby will probably love the change of scenery after spending all day inside, and you can enjoy some quality time with your pup.
Remember to bring the appropriate dog hiking gear so that everything goes smoothly throughout your trip. After all, it's all about the journey and less about where you end up.
Do your research on dog-friendly campsites, dog parks in Denver, Colorado, and make sure that you follow these tips to ensure that the trip is safe and fun for everyone.
Camping is an excellent way to spend time with family and friends, and it's also a great way to reconnect with the great outdoors after spending most of the winter months cooped up.
However, many people shy away from camping because they can't bring their dog along for the trip. In reality, though, with a little bit of research and preparation, it's never been easier to take your dog along and share the camping experience with them.
FAQ: Dog Camping
How to choose a pet-friendly campground?
The first thing you have to do is ensure that the campsite is pet-friendly. This means that you can bring your dog with you to the campground without any issues. If the camp management only allows certain pets, it's best not to get your hopes up.
One way to check if a place is pet-friendly is through their official website or contact details page. Some campgrounds might even have customer service that can provide feedback from other pet owners. You should contact them before making a reservation to avoid any disappointments later on.
Can my dog sleep outside when camping?
Yes, but they cannot be left alone. They must be allowed in the tent and on a sleeping bag or pad at night. When camping in a tent or travel trailer (or even an RV), it's best to make your dog(s) den inside.
What kind of gear should I bring for my dog?
Another way to keep dogs calm on camping trips is to ensure they don't get too excited about being outside. It's essential to give them opportunities for denning, hanging out inside the tent or travel trailer and napping. Don't be surprised if they sleep more than usual on sleeping pads or dog beds.
What dog camping gear should I bring?
It's essential to have a good den for the dog(s) inside the tent or trailer. If it's too hot, consider a den with mesh fabric, so there is good airflow while keeping them protected from bugs. Here's the takeaway: 
Food and water bowls
A dog bed (size dependent on the size of dog) and an old towel and blanket. Your dog should sleep in the tent, not outside the tent door. It is safest for them to be contained within a den inside your tent than allowed to roam free at night. Ensure they are wearing an identification collar/tag with your name, address, and phone number.
Leash & 6-foot long line
Dog waste bags
If your dog isn't accustomed to being in the tent at night, you should 'home den' them for several nights before camping. Home denning gives your dog a safe den or bedroom to sleep in that they are used to sleeping in, like the den of their crate or a corner of your bedroom. With each successive night of home denning, they become more familiar with denning in this space and are slowly accustomed to denning in confined spaces overnight.
Dog go bag/backpack & leash - Keep items you may need while trying to get to safety on hand in a dog backpack.
Collapsible water dish and poop bags: You may need to make a quick exit from your campsite in an emergency. Keep these items readily accessible, don't bury them in the bottom of your pack or forget it at home...
Dog, first aid kit - We've all seen TV shows where a dog gets hurt, and a simple bandage does the trick, but in reality, you need to know what to do if your dog is bleeding or has puncture wounds, etc.
Your dog's medications (if applicable)
First aid information for dogs - We all know how valuable our smartphones can be when we get lost...but what about if your dog gets hurt? Have a first aid guide for dogs on hand.
Dog boots - If you are going to be hiking or backpacking with your dog, you should consider booties/covers for their feet if they spend a lot of time on hot asphalt or rocky terrain. They will keep their pads from becoming dry and cracked and protected them from sharp rocks and other debris on the trail.
Dog sunscreen - If you are going to be hiking in a location with a lot of exposed sunlight, your dog will appreciate some protection for its nose, ears, and lips. Just like people, dogs can get sunburned too!
Your dog's regular leash/collar/tags.
What temperature is too cold for dogs camping?
Some dog breeds are not suited to camping in cold climates. Dogs with short noses (Pugs, Pekingese, etc.) or thin coats (Chihuahuas) will feel the cold more than other dogs. If you are camping in an area below freezing at night, ensure your dog has enough insulation in its den. If they are shivering, it is too cold!
Dog boots - If you are going to be hiking or backpacking with your dog, you should consider booties/covers for their feet if they spend a lot of time on hot asphalt. They will keep their pads from becoming dry and cracked and protected them from sharp rocks and other debris on the trail.
What temperature is too hot for dogs camping?
Dogs can become quickly exhausted and dehydrated, which can lead to heatstroke. If you are going on a hot day, make sure your dog always has access to shade, or you can pack an umbrella for yourself, so they have some protection from the sun. Dogs with long noses (Boxers, Poodles) or thick coats (Samoyeds) may be at a greater risk of overheating.
If your dog is panting heavily and drooling excessively, move to a cooler area and allow them to rest in the shade until they recover.
Dog sunscreen - If you are going to be hiking in a location with a lot of exposed sunlight, your dog will appreciate some protection for their nose, ears, and lips. Just like people, dogs can get sunburned too!
Should I take my old dog camping?
Well… why not?!Camping is a great way to spend time with your old dog! It's the perfect way to reconnect and relax outdoors. You might even find that they have more energy than you do, which will give you time to relax, too!
Making sure your camping trip is safe for everyone will ensure that it's a trip that you both remember and want to take again.
Which dogs should I consider bringing?
Bring any dog that enjoys being outside! Some dogs will have no problem acclimating themselves to cold weather or sleeping in a tent with you. Other dogs will not be as comfortable with those new experiences but may still enjoy being outside and want to spend all day lying in a tent with the door open.
If your dog has been on some camping trips before, then they probably have an idea of what it's going to be like. If they've never been camping before, then you'll want to spend some nights in the backyard with a tent before your big trip. 
It's also important to consider if your dog is used to being around other dogs or people all day. If they are not used to loud noises or lots of activity, you will have to either plan an escape route for when your dog starts to become overwhelmed or choose a camping area that is not as active.
How do I prepare my old dog for camping?
Start by choosing the place you will be camping! Once you know your destination, pack your supplies and plan your route. Bring water for both of you (and food if necessary). We recommend bringing a collapsible dish if your dog is used to eating out of a bowl on the ground.
If you are planning to stay in a tent, make sure there's enough room for both of you and all of your supplies. This also depends on how big your dog is - it would be tough to fit two people with all their gear in most one-person tents! You can bring a larger tent (or two) to accommodate you and your dog if necessary.
Pack some activities for the trip - if your dog likes playing fetch, make sure you bring balls or discs along - even on day trips outside of camping! If you are bringing your dog's crate, it might be helpful to have toys or treats to keep them entertained for a little while if you are busy with other things.
Cleaning up your dog's waste is also very important. Bring along bags to clean up after your dog so their poop doesn't become an environmental hazard! If you are camping at a public campground, there will probably be rules about how to clean up after your dog.
Can I take my 12-week old puppy camping?
Definitely! If your puppy is used to being around other dogs and being active, then they're ready for a camping trip. However, it's important to remember that a puppy still has a lot of growing to do and will tire out much more quickly than an older dog.
Taking a crate for your puppy is a good idea if you are going to be traveling - if your puppy starts to get tired or overwhelmed, they can retreat to their den for some quiet time.
If the idea of taking your puppy on an overnight camping trip sounds intimidating or risky, try doing it in stages.
Bring some food, water, and your puppy's dog bed and take a day trip. Leaving your tent open. This will give your puppy an excellent place to retreat if they need a little quiet time. Ideally, your puppy will have all his vaccinations, medications, and training completed before you go camping together.