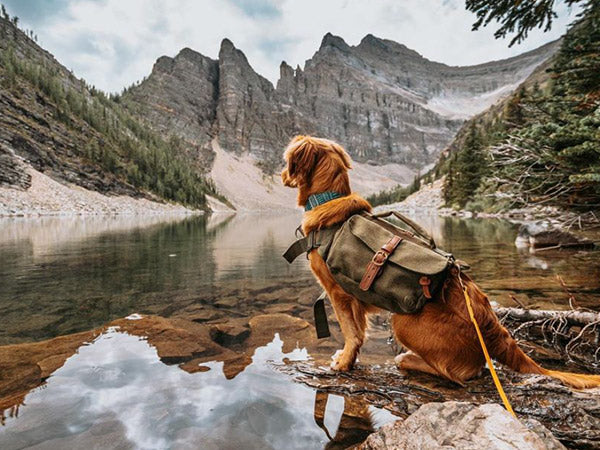 Posted on
---
Photo: @journeysofjuniper
Camping with your pup is a dream for many, but finding a dog-friendly campsite can be challenging. Many national and state parks only allow dogs under specific conditions. 
Some locations allow dogs on specific trails but not others. And some areas even have separate camping areas specifically for pets, but the cost is often more for a site that can accommodate four-legged campers.
 
Where to go with your dogs for an adventure near the city?
Camping with your adventure dog is one of the most rewarding ways to spend time with your dog throughout the year. Only it's not always easy camping with a pup—the tent isn't always big enough for two, there are often restrictions, and logistics can be challenging.
But one way to make up for the costs of bringing your furbabies with you is to find free or affordable campsites in Seattle where dogs are allowed (all of the following are very affordable)
Here are our favorite campsites where dogs are welcome, along with some things you'll want to know before you go.
Just remember: Don't bring Fido if he's not friendly or well-behaved around other animals and humans. Also, check ahead of time for water availability (many of these sites are on the water) and bring poop bags.
Camping with your dog is one of the best ways to spend time together, but not all places are created equal. Here's what you should know about your campgrounds before bringing your furry friend along for an adventure.
Lake Pleasant RV Park is about an hour out of Seattle, but you might not feel like you're in the area at all—which is one reason why dog owners love this spot. It's quiet and serene, so it's great for anyone who needs to get away from the city noise.
It features a wildlife habitat and a small lake filled with fish and waterfowl. All sites are within a short walking distance to the small lake, and many are waterfront. There are wooded nature trails, a putting/chipping green, and access to paved bike trails that lead to downtown Seattle.
Camping is available year-round at Lake Wenatchee. In winter, experience the challenge of snow camping with heated restrooms and warming shelters. Whether you prefer powder or sunshine, Lake Wenatchee offers ample opportunity to try new things. Chiwawa Snow-Park provides the unique opportunity to ski or snowshoe with your dogs after 10 am.
Lake Wenatchee State Park offers a 492-acre camping park with 12,623 feet of waterfront on glacier-fed Lake Wenatchee and the Wenatchee River. It's located 16 miles from the Bavarian theme town of Leavenworth; the park is a natural wildlife area, so you need to watch out for bears and other wildlife. 
Lake Sammamish features two lakefront beaches and trails through deciduous forest and wetlands; this park provides an outdoor family experience just off the urban grid. There's plenty to do, including nature watching, birding, dog hikes; stewardship projects; paddling and cycling; children's obstacle races; fun summer concerts; holiday boat parades, and the annual summer Parkadilly Fair.
The Lake Sammamish campground is located an hour east of Seattle and about 30 minutes from Redmond. This State Park is a 531-acre, day-use park that features over 6,858 feet of waterfront on Lake Sammamish. The area around the lake features cultural significance as a gathering place for at least four Native American tribes. Group camping reservations can be made online.
Dogs are required to be leashed on a leash no longer than eight feet long, and pet parents are responsible for cleaning up after them, or you could face a fine.
If you're planning on camping in this fantastic area, pack a thermos of hot coffee, come back at night with Fido's blanket to throw on the grass, and watch the evening sky with your furbaby. This pawsome trail in the North Cascade Mountains ends up at a small network of ice caves.
Big Four Ice Caves Trail features a 0.6 mile of a heavily trafficked out and back trail located near Granite Falls, Washington, and has a waterfall. It's also terrific for all skill levels. The trail features a number of activity options and is best hiked from May through October. Dogs are also able to use this trail but need to be leashed. 
As of September 2021, the bridge is out, which makes water crossing with dogs difficult. The bridge over the Stillaguamish River has been removed for repairs rendering the Big Four Ice Caves inaccessible for the time being.
Located just north of Seattle, this is one of America's most dog-friendly state parks: The 3,000+ acre Cougar Mountain Regional Wildland Park is connected to Squak Mountain State Park by Cougar-Squak Corridor Park, which together is about 5,000 acres of protected area in the public land known as the "Issaquah Alps."
The park is between 1,000 and 1,600 feet above sea level. It features over 35 miles of trails winding through diverse habitats such as mature second-growth forests, streams and wetlands, cliffs, and nearby caves.
Cougar Mountain Park Cougar Rock Campground has 173 individual sites and 5 group sites. Amenities include water, flush toilets, trailer dump station, fire grates, tables, refuse and recycling cans, amphitheater, and hiking trails—no RV hookups or showers—the max. RV length is 35 feet, with a full trailer length at 27 feet.
Dogs are welcome on these hiking trails but must remain on a leash at all times, so be sure to bring along their leash. Your canine will love exploring this rugged and wild landscape—so long as you remember to load up plenty of water and food for both yourself and your furry best friend. 
Dosewallips State Park, 60 miles north of Olympia, is the eastern gateway to the Olympic Peninsula. This region comprises of forests, mountains, rivers, beaches, and deltas. This is a freshwater/saltwater park that makes it perfect for a day or weekend trip. It can also serve as a base to explore the historic forts and small towns to the north.
This is an excellent state park that you can share space with the local elk herds that wander through camp. There are also bald eagles seen on the beach, and great blue herons flock to the river. 
Park features:
Dosewallips State Park is a 1,064-acre, year-round camping park with 5 miles of shoreline on Hood Canal and the Dosewallips River. All camp areas are grassy and located in scenic, rustic settings.
Cabins at Dosewallips are situated among evergreen trees looking towards the Olympic Mountains. Each house features a covered front porch, electric heat, lights, outlets, and locking doors. Bathrooms and showers are nearby. Pets are only permitted in designated pet-friendly overnight accommodations for an additional fee.
The Pine Village Campground is another grassy RV and tent campground with hookups in Washington that allows dogs. Located just a couple of hours from Seattle, the campsite offers easy access to both Leavenworth's Bavarian charm and Lake Wenatchee's water recreation.
It has been the number one dog-friendly KOA for over a decade, and it's easy to see why – dogs have access to all of the amenities, including a new dog park! Leavenworth is great for hiking, biking, skiing, and fun.
Leavenworth offers an outdoor adventure year-round with dog sledding rides, snowmobiling tours, ATV trails, Native American Heritage Museum & Cultural Center, and more.
Washington State's Lake Whatcom welcomes campers looking for a quiet, peaceful retreat that's just 45 minutes from downtown Bellingham. The park is situated on the southeastern shore of Lake Whatcom, which offers excellent fishing and paddle boarding opportunities. 
It features five camping areas with tents and recreational vehicles, including several prime sites for people with pets. All campsites have picnic tables, fire pits or rings, hydrants, and garbage cans emptied regularly throughout the day. Some areas even have sewer hookups for RVs.
Although an hour from Seattle, Camano state island park offers a mellow, less bustling, but equally friendly alternative to its busier neighbor, Cama Beach State Park. Forest loop trails provide excellent, tranquil hiking trails with Fido.
At the same time, shoreline strolls offer birding, shell, and rock exploration and sweeping views of Puget Sound, Olympic Mountains, and Mount Rainier. Camano Island State Park is a 244-acre camping park with 6,700 feet of rocky shoreline and beach located an hour from Seattle on beautiful Camano Island.
The five cabins located at Camano Island State Park are in a diverse mature forest with peek-a-boo views of Saratoga Passage. Each cabin is 12-by-20-feet in size and is furnished with one folding futon couch that sleeps two, one bunk bed that sleeps three, and a table with five chairs.
Local volunteers made the rustic, custom furniture with wood milled from trees cleared at the park. Each cabin provides a fire ring, a good pedestal grill, a picnic table, and an 8-foot covered porch. Cabin number C5 is ADA accessible, and pets are allowed in cabin C4 with a $15 per night pet fee.
KOA Campsites offer pet-friendly accommodations in beautiful locations that are perfect for camping. The friendly staff members are ready to attend to your needs and ensure you have the best vacation possible. Pets are always welcomed at all KOA campgrounds, but an additional fee of $5 per night.
Specific sites are designated as dog-friendly, which allows them access to all amenities except, in some cases, premium/guest sites. The following campgrounds offer KOA Campsites with designated areas for pets:
Olympic National Park Camping. The Olympic National Park is located in Washington on the Olympic Peninsula and has almost 1 million acres of rainforest, coastline and alpine terrain. The park has fourteen developed campgrounds for visitors staying overnight in RVs or tents.
Pets are allowed but must be kept on a leash, and their waste picked up. Pets are not allowed on most beaches or trails, nor can they be left unattended for more than a half-hour.
The 575-acre Tolt-MacDonald Park and Campground is located in Carnation at the confluence of the Snoqualmie and Tolt Rivers in the beautiful Snoqualmie Valley. The park also features six yurts overlooking the river and seasonal camping for RVs, tents, and two large-group campsites - all with fire pits.
Two large picnic shelters and a beautifully restored barn are available for company picnics, weddings, and other special events. There are 16 individual pull-through utility campsites (water & electrical only), each with a picnic table and fire ring.
Here you can find waterfalls, wildflowers, sheltering forests, mountain views, and an alpine lake are offered on this well-maintained trail. At the lake, enjoy the sights and relax for a while. If you backpacked in, stay at the campsites for sunrise and sunset on the lake.
If you come by car, set up camp and go for a quick swim. Dogs are allowed on the trail to the lake and must remain under voice control.
Miles: 9
Elevation Gain: 1,900 feet
This hike climbs steeply through an open forest to an overlook with views across Snoqualmie Falls and Puget Sound. The first section of this hike follows a closed road past scenic old homesteads before turning into a single-track trail at 0.5 miles.
Here you'll climb more steadily along a ridge with views over tree-topped ridges in the Tolt River watershed before reaching a high point near Bandera Mountain at 2 miles out from the trailhead. From here, the grade eases, and the trail passes through an open forest with views of Mount Snoqualmie towering above before reaching the overlook at 2.5 miles out.
Enjoy vistas across the valley to Mount Rainier, and on clear days, you can see more than 100 miles of mountains. The north side of this loop is popular in winter for snowshoeing or cross-country skiing, while hiking is best during spring or summer when wildflowers are blooming.
Dogs are welcome but must be leashed along trails. Note that dogs are not allowed on some trails in Mount Rainier, so you'll need to consult a map to see where exactly you can hike with Fido. 
Hiking Season: May-October Miles: 12 Elevation Gain: 2,500 feet
This hike offers two loops on one extraordinary day trip or overnight backpacking trip. The Tatoosh Lakes Trail provides dramatic views of Mount Rainier as it climbs to the first lake and descends past a series of cascades.
At Tatoosh Lakes, you can turn around for a longer hike or continue climbing on the Paradise River Trail along the Nisqually River to reach Paradise Park on a more challenging route with less elevation gain.
Dogs: Leashed. This is one of the most popular and scenic trails in Mount Rainier National Park, so be prepared for crowds during summer and fall weekends and jam-packed Memorial Day weekend when half a million people descend on this small area.
Each year! It's also open to bikes from mid-April through October but is not maintained for biking after that. Trailheads are at the Longmire Historic District, Nisqually Entrance, and Cayuse Pass.
Miles: 8.4 Elevation Gain: 400 feet
Seasonal Information: 
Expect the trail to be covered in snow between October and early July. However, conditions vary somewhat from year to year and by elevation. Check for current conditions at the park website before heading out.
While this is a short hike, it's still steep enough that you can get your heart pumping as you climb to some of Mount Rainier National Park's most dramatic views on a clear day - or close-up views of glaciers on cloudy days.
Dog-friendly hikes
If you and your pup would rather spend time learning about nature while exploring new trails than sitting in a stuffy hotel room, all of the places listed above offer excellent opportunities to get out and hike alongside Fido. 
If you're looking for a change of scenery, these camping sites near Seattle are ideal for your next outdoor adventure with your pup. You can also check out all the parks in Washington State that allow dogs on their website. 
If you have any questions about these campsites or want to share your experiences camping there, feel free to leave us a comment below! 
If you take precautions before going out on your trip, making sure you're prepared, and taking the time to plan, then you both will be able to enjoy your camping adventure in no time.
Good luck!
FAQ: 
Q: I've never camped before. What do we need to bring? 
A: You'll need to check with each campsite for their specific amenities, but here's a quick list of what you'll want to consider bringing. Tent or canopy Tent Pad Tarp (for underneath your tent) Blankets/sleeping bags Pillows Flashlights/headlamps Lanterns Food Water Bowls Forms of ID First aid kit and dog hiking gear with pet meds, first aid kit etc.
Q: Will the campgrounds allow my dog to stay with me?
A: Many national and state parks do not allow dogs in your tent. Dogs are allowed on leash at many campsites, but you'll need to do research ahead of time to make sure this is the case.
Q: Where can I find more information about these locations?
A: We recommend you do your research on each campsite. Most of them will have their website or phone number to get information specific to that location. You can also check out our blog post on dog-friendly hikes in Washington state for more ideas.
Q: I'd love to camp near Seattle, but I don't have a car. Is there anything available?
A: You can rent or borrow camping equipment through many outdoor companies or try out an overnight sailing trip with your pup. Check out some car rental and travel companies that feature pet friendly travel options.
Q: Do we need to bring our firewood?
A: No, not usually. Most of these campsites already have a designated area for you to get firewood and bring it back to your site. Make sure you check ahead of time.
Q: What if my dog needs medication?
A: If your dog has a medical condition or treatment and needs pet meds then it's best to bring them with you. In case of emergencies, however, it's always a good idea to have some extra medicine and a first aid pet kit on hand just in case.
Q: What else should we do while camping near Seattle?
A: There's plenty to do in the area, and we recommend doing your research. Make sure you pack for all seasons and check out all the dog friendly parks and activities:
Q: Do we need a water bowl, or can we bring our regular bowls?
A: You'll want to consider bringing a collapsible water bowl just in case. They are available on our website.
Q: What about poop bags? Do we need to bring our own?
A: You'll want to check each campsite, but it's always recommended to bring along whatever you need when hiking.
Q: What do we need to bring for food?
A: It's a good idea to pack your food and bring something that will withstand the conditions. If you're planning on camping with your pup, make sure you have plenty of fresh water and extra dog food available. Most campgrounds also provide a clean-up station for dog waste.
Q: What do we need to bring for my dog?
A: You'll want to bring your pup's usual bedding, food, and water bowl. We also recommend bringing a light coat in case it gets chilly at night. Make sure you bring an ID tag with you or have them micro-chipped just in case they get lost.
Finally, bring a leash and collar just in case. You should also bring along some dog tennis balls, a dog hiking bandana and a dog hiking Ranger Pack for Fido.
As always, it's essential to do your research ahead of time and make sure you've planned for all aspects of an outdoor trip with your pup. We hope this list is helpful, and please let us know if you have any questions!
Q: What about hiking?
A: We suggest checking out our list and our dog hiking gear website. You'll also want to do some research into which hikes are suitable for your pup. All trails are different, so make sure you understand each hike's sites, hazards, and conditions before heading out with your dog.
Q: Can I take my dog camping on public lands?
A: Please check the detailed regulations for each public land you want to camp on before going. Dogs are prohibited from most National Parks and Federal lands but allowed in some State and local areas.
Q: How do I know if a park is dog-friendly?
A: Many states have their listings for dog-friendly parks and trails. You'll want to do your research.
Q: Do I need a permit for my dog? 
A: It depends on the location. Some parks require you to have a permit; others do not. Most of these camping locations are in national forests, where no charge or permits are often needed. That said, always bring along a copy of your pup's vaccines and rabies shots.
Q: Do I need a leash when camping nearby Seattle?
A: Some outdoor locations require leashes. Check with the individual park before going so you know what to expect.
It's always good practice to have your pup on a leash when in public sight, but it is not required at all of these locations. If you are visiting a national park, however, dogs are required to be on leashes.
Q: Are there hotels nearby that allow dogs?
A: Yes! Some of the luxe resorts in Seattle offer luxurious pet-friendly rooms for you and your furbaby. It's also worth checking out Airbnb or other lodging services to see what options are available near the city.
Q: When is camping available?
A: The gate to most campgrounds opens at 8 am and closes at around 11 pm.
Q: Are there local vets near Seattle?
A: There are plenty of vets in Seattle. If you're looking for more information on pet care near Seattle, please check.
Q: What else should we bring when camping nearby Seattle?
A: Besides your pup's bedding, food, and water bowls, you'll want to bring other items like sunscreen, insect repellent, and toiletries. You'll also need to pack dog friendly hiking items like towels for yourself and your dog.