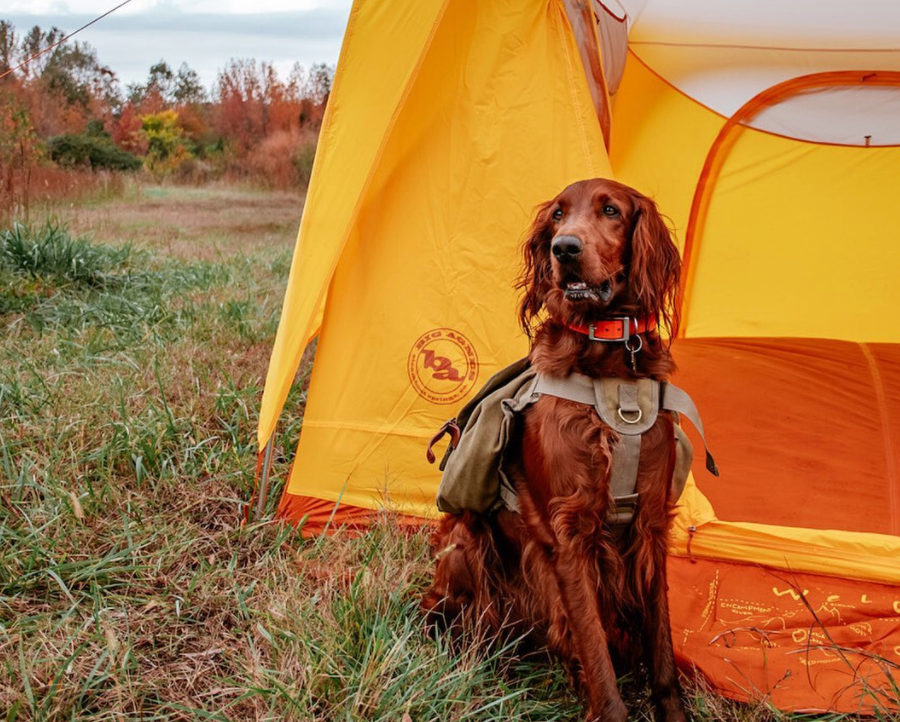 Posted on
---
Photo: @thehikingsetter
If you're looking to take a camping trip with your four-legged friend, these dog-friendly campsites in Texas will not only provide the perfect atmosphere, but they're also located in some of the state's most beautiful areas.
Texas is a great place to take your pup camping! Adventure out into the great outdoors and camp under the stars with your dog. Here are the top eleven dog-friendly campsites in Texas:
This is a dog-friendly RV resort and campground in Hutto, TX. This is a deluxe RV and cabin site that is surrounded by picturesque and shaded Brushy Creek. Redbud Ranch offers a variety of beautiful and well-maintained amenities, including fishing ponds, pool, spa, fitness trail, dog park, dog-friendly cabins. 
There is also an onsite general store. Dogs are not allowed in the Great Lodge, Laundry Facilities, Bathhouse, or Pool Area. Dogs must be on a leash no longer than 6 feet outside of an RV or cabin unless they are inside a dog park fence. However, keep in mind that dogs are not allowed in cabins that have not been designated "dog friendly." 
A $200 cleaning fee is charged to any guest that allows a pet into a cabin not designated as "dog-friendly. "Dogs must be leashed at all times or crated when not supervised. Keep in mind that there is a dog policy and that there are specific breed restrictions. Every Site Includes…
30/50-amp electric
Water
Wastewater hookup
High-speed Wi-Fi
Patio with picnic table
Fire ring with grill grate
Devil's River is essentially the only trail but is dog friendly and leads to some beautiful views on the ridges. On the 12-mile trail, there are a few primitive campsites you can reserve if you'd instead hike in! 
It's a slightly under a mile walk down to the river. Dolan's Lake DFW offers a variety of amenities and activities such as D Loop sites with full hookups, boat rentals, a fishing lake, a clubhouse, and a fitness center. Dolan's is open seven days a week from 8:00 am to 2:00 pm for check-in and 3:30 pm to 10:00 pm for check-out. Dolan's Lake DFW is a pet-friendly campsite.
3.Texas State Parks
This is a dog-friendly camping site that can be found all over Texas and some that offer cabins. Texas state parks offer a unique experience by providing access to the great outdoors. There are more than 80 parks with trails, wildlife viewing, lake and beach activities, including swimming, boating, and fishing.
D Loop sites are available on a first-come, first-serve basis, or you can make reservations up to 6 months in advance online or by calling 1-800-792-1112. D Loop sites offer a table, fire ring, and grill.
Inks Lake is located in Burnet County, just north of the city of Llano, which is about an hour from Austin, TX, along the Colorado River. This is an excellent spot for a weekend getaway. You can rent paddle boats, canoes, one- to two-person kayaks, life vests, and paddles at the park store. There are over 200 campsites and 22 cabins with many sites by the lake.
There's a general store in the park to buy supplies and snacks, Ranger programs, and plenty of area attractions.
D Loop campsites are available but do fill up quickly during busy seasons. D Loop sites are first-come, first-serve, and offer tent camping only (no RVs allowed). Dogs are permitted in D Loop campsites and on D Loop trails; they must be leashed at all times.
This is a dog-friendly camping site with full-hookup campsites that feature outdoor grills and picnic tables. There are monthly rates from December through February. You can also find tent-only campsites with water in the Deer Run camp area.
Rates range from $15 to $25 nightly. You may bring pets to most state parks, but they cannot enter Texas State Park buildings. Learn about rules for pets at state parks. For park-specific pet restrictions, contact the park.
Here you can visit the Cave of Legends, a guided tour of two limestone caverns. The cave is home to over 100,000 Brazilian bats and the world's largest colony of Mexican free-tailed bats. You can read more about their eco-friendly sewage treatment system here. There are a few nature trails around the park that take 3-4 hours total. Dogs on leashes are allowed in designated areas of the park. From here, you can visit the Inks Lake State Park that features family fun on water and land. There are striking sunsets, and you can go camping with your dog, play volleyball, picnic, and enjoy nature.
This is the second-largest canyon in the country lies in the heart of the Texas Panhandle. Visit Palo Duro Canyon State Park; experience the canyon's rugged beauty and enjoy its colorful history. There are over 30 miles of trails to go dog hiking or even ride (bring your horses) or bike. Campsites feature water and electricity with luxury camping proffered. (campsites)
Palo Duro Canyon is home to many types of wildlife. D Loop sites are on a first-come, first-serve basis. D Loop sites are designed for tents or RVs up to 30 feet in length. You can also bring your pet camping with you, but they must be leashed at all times.
Mountains and deserts surround this camping site. This is located in Far West Texas, where night skies are dark as coal and rivers carve temple-like canyons in ancient limestone. This hiker's paradise has elevations ranging from 1,800 feet along the Rio Grande to 7,832 feet on Emory Peak in the Chisos Mountains. 
Elevation changes produce a wide variety of plants, animals, and outstanding scenery. Big Bend is the largest state park in Texas, offering miles of trails and a camping ground. D Loop sites are available on a first-come, first-served basis, and D Loop sites offer tent camping only (no RVs allowed).
You can bring your pet with you as long as they are leashed at all times. There are day-use areas that dogs can be off-leash, but they must remain with their owner. Dogs are not allowed in buildings at the park, on trails, or in the backcountry.
Dogs are only allowed to be ¼ mile from campsites or designated roads and only on the Closed Canyon Trail and the Hoodoos Trail on FM 170. Dogs are not permitted on any other trails in the backcountry or more than ¼ mile from campsites or designated roads.
This state park is a popular choice for those who love to take their pup camping with them. Set on the Colorado River, the park offers scenic views and trails for you and your dog to explore together.
Additionally, it's less than 30 miles from downtown Austin so you can easily enjoy all the city has to offer after spending time in the out-of-doors. There are 81 campsites and six remodeled cabins here where you can listen to the Onion Creek while hiking with your dog. To top this off, there are 9 miles of hiking trails. Keep in mind, though, that pets are not allowed in the upper and lower Falls area.
Pup parents looking for a fun outing for them and their furry friend should head to this state park that features more than 8.4 miles of hiking trails designed especially for dogs and their owners. You'll love getting some exercise with your furry friend as you hit the trails at this beautiful state park. Enchanted Rock features camping and picnicking and are located between Gillespie & Llano Counties.
In addition to the 8.4 miles plus of trails, there's also a scenic drive open from 10 am-5 pm daily, offering an up-close view of Enchanted Rock. This park averages over 300 sunny days per year, so pack your sunscreen and get ready to spend a day exploring the trails with your adventure pup! Pets are not allowed on the Summit Trail, and all park trails close at sunset.
To protect this Natural Area, dogs can only visit the designated day-use picnic areas, the campgrounds, and the Loop Trail (pets are not allowed on any other trail). Don't leave pets unattended, including in vehicles and at campsites, and keep them on a leash no longer than six feet at all times.
Camping is an excellent way for you and your pup to bond as you escape from everyday life for a few days together. At this state park, dogs are welcome to stay in all of the park's lodging options except in the cottages.
Campers with furry companions will enjoy exploring the numerous trails and swimming at Lake Bastrop. Here you can bike, hike, picnic, paddle, and even go camping with your pup. With nearly six miles of trails through the forest, you can hike under towering pines or even go mountain bike riding or canoeing.
If you're opting to stay overnight, there are plenty of campsites with electricity and water and also cabins. You want to go when it's cooler so that you can hike easier and sit by the lake.
FAQ - Dog Camping in Texas
Are all state parks in Texas pet-friendly?
Some are pet-friendly, while others are not at all. DFW is the best place to find pet-friendly state parks. Check out this list for more information on dog-friendly camping in Texas.
Where are the best places to camp with my dog?
The best place to go camping with your pup would be the DFW area. DFW is home to the most pet-friendly state parks. Here, dogs can go hiking with you on trails, swim in lakes, or enjoy some quality time with you under the night sky. Other than the DFW area, McKinney Falls State Park, close to Austin, is also a popular choice for looking for a pet-friendly camping experience.
How do I find the best places to camp with my dog?
There's a wide selection of pet-friendly state parks in DFW that you can choose from. McKinney Falls, Enchanted Rock, and Pilot Knob State Park are some of DFW's best choices where your pup will enjoy going hiking or swimming with you.
DFW is also home to many pet-friendly cabins where your furry friend can curl up on the couch after a tiring day.
 If you are looking for other places, check out this list of dog-friendly camping in Texas below.
Why is Texas an excellent spot to go camping with dogs?
Texas has excellent camping spots for dog owners. DFW is home to several pet-friendly state parks, including Enchanted Rock just outside of Austin and McKinney Falls near San Antonio. DFW also has many cabins where your pup can curl up next to you on the couch after an active day outdoors.
What should I bring when I go camping with my dog?
When you go camping with your dog, it is essential to remember that they are more vulnerable outside than in your home due to weather and wildlife.
Bring all of the things you would need when camping without a dog, such as food and water, leashes, and doggie bags so you can keep them safe.
Should I bring dog hiking equipment for camping trips and hikes with my dog?
It is essential to exercise your dog before going camping or hiking with them. If you plan on doing a lot of long hikes and activities, bring some dog hiking equipment such as your Wolf Republic Ranger Pack, dog toys, dog hiking bandana, and a dog hiking collar and leash, which are more durable. You will want to bring dog hiking equipment designed for your dog, mainly if you are headed on trails.
What type of pet foods do I need for camping?
When you're camping, your dog's diet should stay the same as it would typically be. This means that if they generally are on a high-protein, no- grain diet, this is what you should continue to feed them.
While camping, make sure your food bag is secure up high and away from any wild animals. For more information on pet foods for camping, check out our section on Dog Food for Camping.
Is there a website or organization which has a list of dog-friendly places to camp?
Many websites list pet-friendly places to camp, such as WolfRepublic.com
http://www.wolfrepublic.com/camping/texas-dogfriendly-campsites/
What's the difference between bringing a dog with vs. leaving a dog at home when going camping?
Camping with your pup allows you to spend more time outdoors and enjoy some quality bonding time with them. Here, they get to exercise and experience the outdoors, and if they are well-behaved, they can be off their leash to run around freely. (depending on which trails you're on)
Camping with your pup is not for everyone, though.
It may take longer to set up camp or pack up due to having another member in your party; camping with them requires more logistical planning, and it also requires that you keep an eye on your pup 24/7.
Dog-Friendly Campsites in DFW