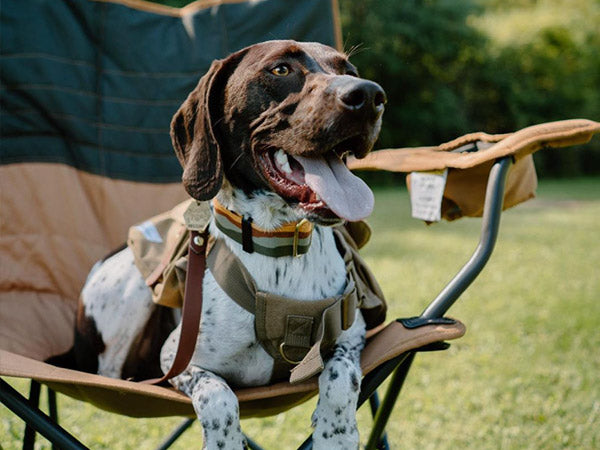 Posted on
---
 Photo: @adventures.with.willow
The best place to escape with your dog is in one of California's national or state parks. There are many fantastic campgrounds for you and your best friend. Each park offers something unique for campers and their canine companions, from tent camping to full RV hookups. When you're exploring the Golden State, make sure to check out these top ten dog-friendly campsites in California.
Emerald Bay State Park is located on the southwest side of Lake Tahoe, and camping here is not only an adventure but a spectacular sight as well. If you love hiking, this park offers some of the best trails. Some of the hikes you might want to consider are Ward Creek Trail, Pyramid Peak Trail, and Eagle Falls Loop.
You can also drive to the trailhead for Velma Lakes via Rubicon Bay Campground. There's plenty of water activities at Emerald Bay State Park, so be sure to bring your kayak or paddleboard and explore the lake.
You can also rent a boat at the marina if you want to take your canine companion for a ride. When it's time to settle in, head over to Eagle Falls Campground, where they allow dogs on their leash.
Just outside of Los Angeles, Red Rock Canyon State Park is located near the town of Mojave. There are several spots on this 200-acre park where you can pitch your tent and let your dog roam free without worrying about them running off.
According to California State Parks, on weekends between April 1st and October 31st, this park opens up a primitive campground. The best part is that dogs are allowed here on a leash up to six feet long.
Just over an hour from Sacramento, Folsom Lake State Recreation Area is located near the town of Granite Bay and offers some great amenities for campers. Within the park are equestrian, group camping, and RV camping facilities. Dogs are allowed to run leash-free in these areas as long as they do not bother anyone else. This is a dog-friendly park where dogs are allowed on trails and in water, although there are certain swim areas they can't go into.
Montaña de Oro State Park offers stunning coastal views for campers and their canine companions. Located just five miles south of Morro Bay, camping here is a must for adventurers.
Pack a tent and hiking shoes because there are over 15 trails for you to explore.
Your dog must be on a leash at this park, but they also offer off-leash trails within the campgrounds where your pup can play to their heart's content. Dogs are also allowed in Spooners Beach, but not on trails.
You can pitch your tent at the Oak Hollow Campground, allowing dogs on leashes up to six feet long. The park's hiking trails are also great ways to explore the cliffs and beautiful coastline with your furry friend.
Packs of hounds love Cuyamaca Rancho State Park because they are allowed to run leash-free along trails. Located near the town of El Cajon, camping here is a great way to spend the weekend with your canine companion. Dogs are allowed in the campgrounds and on designated paved park roads.
If you want to get away from the city but not too far, Santa Rosa Plateau Ecological Preserve is a great place to go near Riverside. This 40-mile reserve offers yurts and horseback riding. You can also take day trips from your campsite and visit something for everyone.
You must follow the rules and regulations during your stay, but there are leash-free trails throughout the preserve for you and your furry friend to explore.
Dogs on a leash are allowed in this lake's day-use area, which is right outside San Bernardino. The best time to go is during the summer, when you can take your pup swimming or kayaking with you. 
Silverwood Lake State Recreation Area offers campsites for tents and RVs. Dogs are allowed to run leash-free in these areas but must be kept under control at all times. Dogs are permitted in campgrounds, picnic areas, parking lots, and boats but not on the beach or in the water.
This is one of the largest state parks in California and has over 500 miles of hiking trails. Wildlife watching is popular here as well as camping, picnicking, and sightseeing. Dogs on a leash are allowed on all trails and campgrounds except for visitor centers, ranger stations, and day-use areas. Dogs are allowed in the campgrounds, on designated park roads, and the Visitor Center/Campground Trail.
Lake Tahoe offers some great camping opportunities for dogs. They are allowed at the Morgan Trailhead, located near Homewood, and at Baldwin Beach by boat. You can also take your dog to the Homewood Day Use Area where they are allowed off-leash as long as they do not go near any roads or bodies of water. Pets are allowed in developed sites but must be on a 6' leash.
Located in Crescent City, this campground offers hike-in and drive-in options. A few trails in the surrounding area allow dogs to run leash-free as long as they do not bother any other people or wildlife. If you want to explore more of Crescent City, there is a pet-friendly motel nearby where you can stay with your pup.
FAQ
Q: What do you need to bring on a dog hike?
A: You must bring water and food for your pup, their leash, collar, poop bags, a first aid kit, a fire source-meaning wood or charcoal, depending on where you are going to hike. You'll also need some form of shelter if the weather is bad enough.
What do you pack for camping with dogs?
A: For a dog-friendly trip to the outdoors, you will need a sturdy leash no longer than 6 feet long. Water and food bowls or bottles are necessary; they can be collapsible or regular water bottles. Food that is easy to consume should be packed in your bag.
Before you go camping, make sure your pup has a collar that is easy to remove if they get stuck somewhere or enough space to roam around. If it's going to be cold at night, bring a blanket for them as well as their food and water bowl.
Q: Do dogs need a permit to hike?
A: The Golden State is a place of year-round fun and relaxation. From camping to surfing, California has it all! There is no doubt that camping with pets can be a great time.
While the number of pet-friendly campsites continues to grow, some parks require a non-refundable registration fee and proof of vaccination.
If you plan on going camping with your dog overnight, it's best to call ahead or visit the official website for the park.
Q: Do I need to bring a dog backpack when camping?
A: Backpacking with dogs can be a great way to bond with your dog. Make sure you pack plenty of extra food and water for them! A sturdy, yet stylish Wolf Republic Ranger Pack works well for outdoor adventures with your dog.
Can I take my dog on hikes in the State Park?
A: The short answer is yes! Many hiking trails allow pets provided they are kept on a leash at all times. To avoid any fines, stay on designated trails.
Q: What is the best tent for camping with dogs?
A: Tents are a great way to bring your dog outdoors without spending too much money.
Make sure you buy one big enough for both of you! Even some tents have fully enclosed screens so your dog can go in and out at their leisure.
Q: Is camping allowed on all National trails? 
A: Many people assume that dogs are not allowed on the trails, but this is not the case.
It's best to check with local rangers before bringing your dog along for a hike. Camping with pets is a great way to get more of the camping experience. Be sure to check with your local state park for rules and regulations about bringing dogs along!
Q: What are some dog-friendly campgrounds I can stay at?
A: There are many fantastic pet-friendly campsites all over California. Some parks even have cabins or lodges where you can stay with your dogs! If you are looking for a fully-furnished campsite with running water, bathrooms, and even showers, check out DogFriendly.com's directory of dog-friendly campsites. Another great place to look is Reserve America, which offers access to various state parks throughout California. 
Q: What should I do if my dog gets sick while camping?
A: While most dogs love to spend time outdoors, sometimes they can get a little homesick. If your dog starts acting depressed or anxious, it may be time to head home. Camping is supposed to be fun! If your dog is not feeling well, you should take them to the vet. A vet check will ensure that everything is okay, and you can adjust their medication if needed.
Q: How do I know which trails are dog-friendly?
A: Before bringing your dog along for a hike, make sure you ask local rangers about any rules or regulations about having dogs on the trail. Never assume! It's best to ask multiple people to help avoid fines and accidents. By asking a few simple questions, you can make sure your dog has a great time camping with you! As usual, bring along all your dog camping hiking gear!
Q: What is the most popular trail for dogs in California?
Many trails all over California allow dogs on leashes. Some of the most popular include:
- Muir Woods National Monument