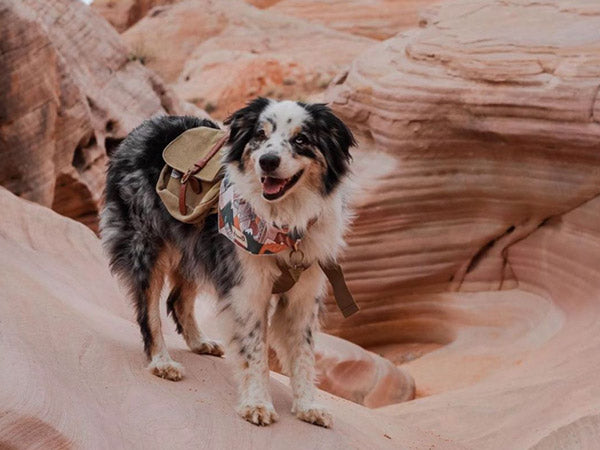 Posted on
---
Photo: @olivertheaussieboy
Hiking with your dog is a wonderful exercise and one of the best ways to keep fit with your family. With dogs being the best companions for outdoor adventures, you'll need to take into consideration all the necessary dog hiking equipment as well as extreme weather conditions to ensure the best outdoor hiking experience.  
Your dog also needs to be well-trained to avoid any mishaps during hikes. In this blog, we will discuss how to keep your dog safe during extreme weather conditions.
Hiking Safety Tips
Keeping your pup safe during all outdoor hikes with your pup should be a key consideration. Check with your vet to make sure that your dog is fit enough to go on hikes. Some dog breeds make better hiking partners than others. If you have a senior dog, then you'll need to be cautious and take your dog to the vet for a complete check-up. 
Hiking, most especially long hikes, can be challenging on older dogs. The same applies to adolescent growing pups that may be predisposed to hip and elbow dysplasia. Hiking in extremely hot or cold conditions should also be avoided to keep your pup safe. Excessive heat can cause dehydration and other health problems in dogs.
Photo: @justbeingfarley
Dehydration 
There is little doubt that an essential part of hiking with dogs is keeping them safe. With extreme heat, the most threatening factor is dehydration. As dogs become dehydrated or are on the verge of dehydration, they may require intravenous fluids to correct the dehydration occurring within the body's cells.  
You can also offer your dog some electrolyte replacement drinks to promote a rapid recovery as well. Reach out to your vet for the best advice so that your pup gets the best care possible.
Water
It's essential to bring water along for your dog because dogs don't sweat like humans. Panting keeps them cool and puts dogs at risk for overheating when taking your dogs out on a trail hike. If you don't bring along clean water for your dog, you risk your pup drinking from standing pools of water that could be contaminated. Water from unknown sources could also contain parasites, chemicals, toxic algae, and even bacteria.
Outdoor Hiking in Extreme Weather Conditions
If you're like us and enjoy outdoor adventures all year long, you'll need to understand some safety tips before heading out. During the snowy season, trails may be slippery and covered in snow. This makes for a more challenging and longer hike, so your dog must be fit. You'll also need to consider your dog's breed and if he has a thick coat.
Dog breeds like the Husky thrive in super cold temperatures and enjoy hiking out in the snow. If you have a short-haired dog breed, it's essential to understand that they will get colder faster and should not be outdoors for too long. 
Senior dogs and pups should also not be exposed to extreme temperatures. Older dogs can also get injuries when wading through thick snow. As usual, consult with your vet before heading out. You should also research your dog breed and find out more about how protective their fur is in cold weather.
Summer Heat Waves 
Extreme temperatures are becoming the norm in many parts of the world due to climate change. What we may not realize is how global warming is affecting our dogs as well. Nowadays, there's no season where we don't hear about extreme temperatures, wildfires, and flooding. 
If you have a dog, it's best to plan all outdoor activities during the early morning or evening hours to keep your pup safe from overheating and dehydration. Be sure to keep your dog cool inside the home and car with air-conditioning. You can also use extra fans in your home to keep your pets cool throughout the summer and be sure that your dog has access 24/7 to freshwater. 
Photo: @husky.levi 
Mosquitos
Thanks to hotter weather, your location may be prone to more mosquitos in some regions, and you should consider a heartworm medication to keep your dog safe. If there's plenty of mosquitos, keep your dog indoors during dusk and dawn when they are most active.
Ticks
There's no getting around an increase in ticks and tick-borne diseases over the hot summers. Regions that experience super-hot summers will be prone to a rise in tick populations in their area together with an increase in Lyme disease.
If you're opting to go out hiking with your pup during the summer, you'll need to take extra precautions to protect both your dog and yourself from long grasses and overgrown areas to protect from ticks, fleas, and other bugs.
Winter Cold Snaps
When the mercury plunges well below zero, you'll need to avoid hiking and shouldn't let your dogs spend more than a few minutes outdoors. Your pup could get frostbite quickly, most especially if there's a wind chill.
 If you're going through a cold spell with extreme cold, refrain from outdoor hiking and keep your dog inside where it's warm. You can supervise your dog while he's outdoors and protect him from the cold with snow booties and a dog coat.
Short or Long Hikes
If you're used to longer hikes during the cooler months, it may be a good idea to do short hikes over the summer. You can always go back to longer hikes during the winter after getting your dog back into shape.
Keep in mind that if the temperatures are below freezing, a mini walk is recommended for most dog breeds. This should be at the most 10-15 minutes. When the temps rise above freezing, depending on your dog breed, you can aim for longer, but you'll need to take infrequent breaks because it's much tougher hiking through snowy terrain.
Is My Dog Cold?
Your dog's skin and coat will feel cold if he's cold. Keep in mind that if your dog is a breed that's not well-suited to the cold, he should not spend more than a few minutes outdoors in extreme temperatures., Your dog can get hypothermia and frostbite if exposed to extreme temps.
Short-haired pups and dogs, as well as senior dogs, are more prone to frostbite and hypothermia. That does not mean that dog breeds with thick coats are less likely to get hypothermia or frostbite. The cold will affect their joints and may be uncomfortable for them. Here are the signs to watch out for when out hiking in cold temperatures;
 Excessive shivering
Unexplainable whining or barking when out on a hike in frigid temps.
Anxiousness and your pup seems to want to find a shelter
Your dog feels cold to the touch and his paws. Ears, nose, and tail tip are super hard.
Discoloration or frostbite to nose, ears, or paws
Winter Dog Hiking Essentials
A coat and boots will be helpful in cold weather hikes not only to keep your dog warm but to protect against mud, dirt, and bugs. Lightweight waterproof jackets will also keep your dog warm and more comfortable. You can opt for dog sweaters and heavier jackets but be sure that your dog does not overheat when out for a hike. If they get wet, remove them as soon as possible to avoid exposing your dog to the damp fabric when out in the cold.
Lightweight travel dog camping bowls for water and food are essential mealtime basics and work for long drives, short and long outdoor hikes, boat and camping trips. To get around common dog hiking camping trip issues in extreme weather, you should buy a tent, flashlight, and first aid kit to ensure that safety comes first.
Dog sleeping bags or beds will also keep your dog warms by trapping body warmth and reducing air sockets around the body. Doggy goggles for the snow, sun, and extreme weather conditions work particularly well when your dog runs full speed through heavy brush or grass. They also protect your dog's eyes from UV rays, dirt, debris, and dust. Opt for dog eye goggles to ensure eye health throughout your dog's life and protect him from eye injuries that he could sustain while out hiking. 
Dog Ranger Packs are designed to carry plenty of hiking gear but should not weigh more than half your dog's weight. A GPS tracker for outdoor adventures can help you track your pup at all times, even if he runs off and gets lost.
Using a GPS dog tracker, you can download the app on your phone and see his whereabouts 24/7. As usual, a reflective dog vest together with a reflective dog collar and leash help to prevent accidents and are ideal for winter weather hikes when it's gloomy. It helps to keep your dog visible and works both day and night.
Because avalanches and frozen lakes are a natural hazard for both man and dog, be aware of your surroundings throughout your hikes. Research weather ahead of time, and go out hiking with a group of experienced hikers.
Your dog should only go out on trails when he's well-trained and listens to you when off-leash. Always opt for pet-friendly trails, and keep in mind that not all trails are suitable for all dog breeds.
The right dog hiking gear for both you and your dog needs to stand up to the most rugged excursions in all types of weather with the strongest of dogs. So before you head out, pack only high-quality dog hiking products that you can trust and that are lightweight. Remember that any product you take with you must be essential, ultra-light and fold-up so tiny that you can fit them in your pocket. These are also water-resistant and fast-drying, making them one of the most critical dog hiking products to take along. The most essential dog hiking product is the Wolf Republic dog hiking adventure backpack!