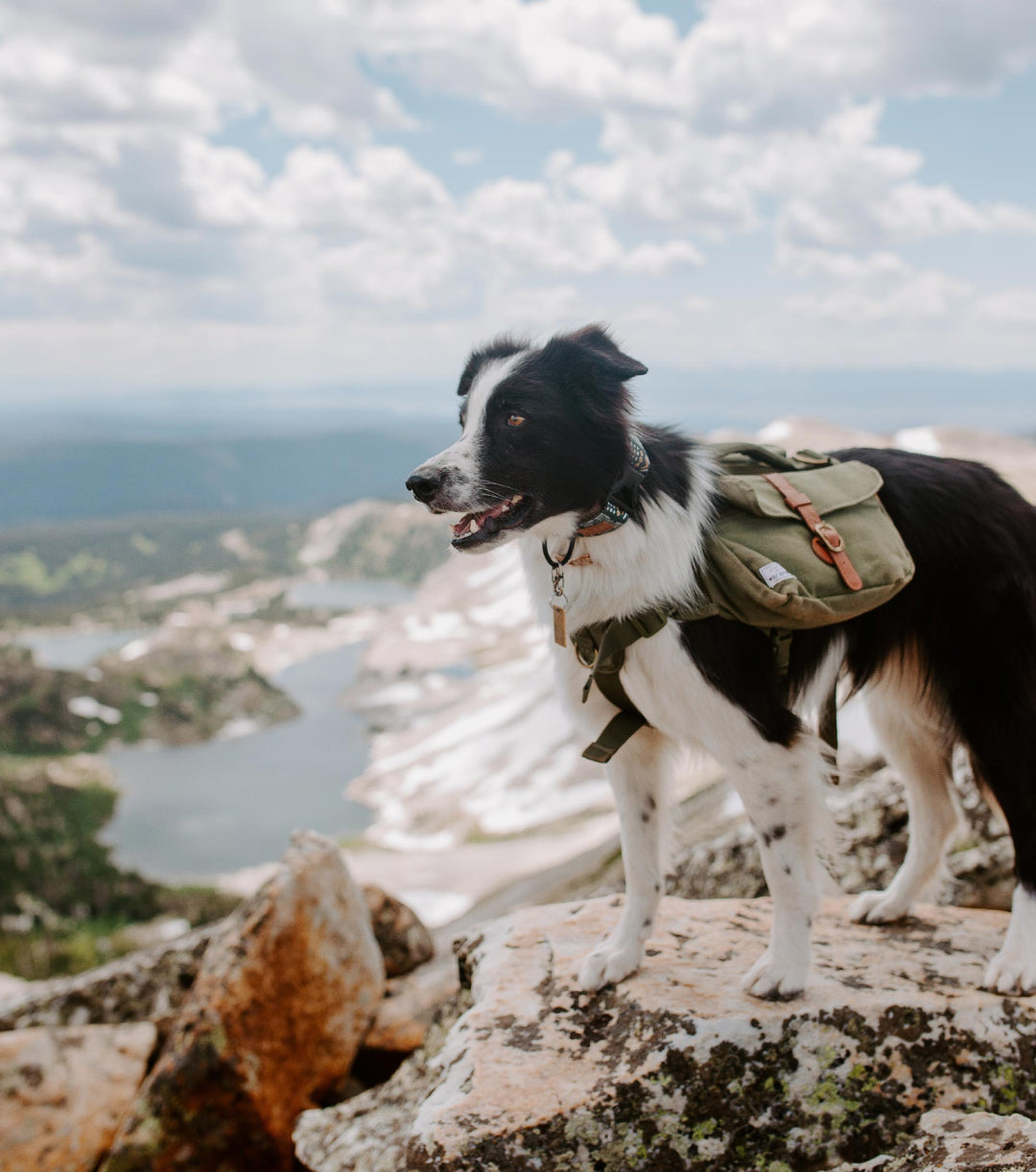 Posted on
---
Imagine yourself and your furry best friend living free and enjoying an off-leash dog hike in the rugged wilderness. Whether you're seeking Green-Topia, or wanting to experience rugged terrain on off- leash dog trails with your furry best friend, you're going to have doggo amazing fun!
Check out our ten best U.S. off-leash dog hikes in the U.S, and don't forget to bring all your dog friendly hiking essentials to keep your dog safe, and in tip top shape! Hydration and safety are key to having a fun time hiking off-leash with Fido!
If you're as passionate as we are about off-leash hiking with our furry best friends, trips are best done with the right dog hiking gear like sturdy dog leashes, denim doggie bandanas, and comfortable dog backpacks.
Close your eyes and picture yourself amid stunning scenery, perfect weather, and take advantage of all COVID-19 travel deals with your pooch! Snag a blissful off-leash hiking trail with Fido, and find your paradise as you explore these terrific off-leash dog hiking trails with us throughout the dog friendly U.S with your ranger pack - the perfect dog packback for day hikes and overnight adventures outdoors! 
Why do you need specialized and durable dog hiking gear?
Your hiking buddy may need to be securely leashed during some parts of a hike. You may be traveling with other dogs or small children, or you just may want a specialized dog harness for hiking to protect your dog's belly and back from bushy terrain.
If you're thinking about tackling a rocky mountain or steep road, the best dog harness, and pet backpack together with all your dog friendly hiking gear are an important part of your trip. Dog scout collars with clear identification and dog scout leashes are made especially for hiking, and are more durable together with other outdoor dog gear like a dog bandana together with water and food bowls. The collapsible bowl is perfect for off-leash dog hiking trips, and fits in pockets for convenient storage!
10. Runyon Canyon, California
Located off Mulholland Drive in the Hollywood Hills, this 160 -acre park in Los Angeles is especially treasured by dog lovers as the perfect off-leash hiking spot. If you're looking for great scenery and views, there's no better spot than Runyon Canyon.  
Nestled at the eastern end of the Santa Monica Mountains, the southern entrance is via Hollywood, making this park super easy to get to. The park offers three different hiking trails with multiple levels of difficulty. It's also home to a 90-acre dog park! The beautiful scenery offers 360 –degree views of Los Angeles, making this the perfect destination for both exercise enthusiasts and pooch!
9. Little Wildhorse and Bells Canyon Loop: Ferron, Utah
Photo: @jeselynpeery
If you're into packing a picnic, gearing up your dog hiking backpack, and enjoying an off-leash hike with your furry best friend, this will be your favorite trail. The beautiful Utah trails will get you both enjoying new scents, sights, while exercising together.
Bring along your collapsible water bowl and your best dog harness with a dog leash because dogs may need to be on a leash for some of this 9-mile trek. The off-leash trails explore a few Class 3 and Class 4 treks, and you'll need to keep an eye on Fido as he explores the hidden crevices. Slip on the leash for some of the more difficult spots for extra safety.
8. Bear Peak, Colorado
Photo: @razmatazmihevc
Grab your blue tag and set off along Bear Peak for a vigorous off-leash dog hike! You'll need to be prepared for the difficult terrain that lead up to the canyons, and also wary of the steep rock at the summit. This is a 70% max grade off-leash hiking trail, and may not be for everyone.  That said, the Mesa Trail overlooking NCAR offers outstanding views at an elevation of over 8,000 feet.
Safety first, when it comes to Fido! Opt for the dog bandana and collapsible water bowl. Load up your Ranger Pack with an extra dog collar and leash, and consider leashing your dog to maintain distance during COVID-19, and to keep your dog safe as well!
Bear Peak is a strenuous 7.4- mile hike through the south Mesa meadows. Be prepared to go up rocky trail (Shadow Canyon) to the summit. There are many trails to choose from. Opt for the most pet friendly/safe one!
7. Duck Pass Trail: Mammoth Lakes, California
Photo: @feminine_mystique
Embrace the snow-capped peaks and emerald- colored waters with Fido, all the while traversing through cool and shady hillside terrain with your favorite hiking companion. Keep ambling past Arrowhead, Emerald, and Skelton Lakes and hit the water to keep Fido cool, all the while enjoying the California sun.
This trail offers a 9.5 hike with the best times from July to October. Perfect for the denim dog bandana, your best dog backback to carry along water and food dog bowls, and extra off-leash hiking essentials like collars, harnesses, leashes, and more! Don't be surprised if you see horses on the trail!
6. Four Pass Loop: Snowmass Village, Colorado
Photo: sjutarat23
Faced with some extra pet vacay days during COVID-19? The Four Pass Loop: Snowmass Village is located near Aspen, Colorado. Keeping up with the gorgeous views, this hike takes 3-4 days, and hikers recommend doing it counter clockwise and getting to Snowmass Lake first with Fido. With breathtaking views and few visibility issues, you can enjoy over 4, 12,500 foot alpine passes.
This trip is best done in the fall when you can have a yapping good time and watch the aspens turn gold. Outdoor dog gear is a must here for when you travel with your adventure dog! Enjoy the pawsitively stunning scenery with a perfectly prepped dog backpack for larger dogs if you have a large dog breed. You may want to camp out longer during the COVID-19 pandemic!
5. Whiteoak Canyon to Cedar Run Loop: Stanley, Virginia
Photo: @rockhard_abbs
Offering six waterfalls and lush green hiking trails for Fido within a nine-mile radius, you can traverse through shallow water crossings, and pick a scenic spot for a picnic with Fido. If you're looking for adventure, you'll find it here. That said, make sure you begin at the bottom of the mountain, traverse up to White Oak, and then go back down Cedar Run. 
It may be foggy during the winter months, but this is truly a dog friendly hike where both dog and human can cool off in the swimming area that also offers a waterfall slide. Trekking on wet rocks across streams with Fido means having the right off leash hiking gear. If hiking dog gear makes you yearn for off-leash hikes, Four Pass Loop offers the opportunity to use every bit of gear from dog backpacks, harnesses, and leashes when the going may be tough or too slippery for Fido.
4. Acadia National Park, Maine
Here you'll find 100-miles of hiking trails offering 45 miles of Fido friendly carriage roads. If you're looking for camping sites, pets are welcome on both Blackwoods and Seawall campgrounds. Isle au Haux is also pet friendly, and perfect for a day hiking trip with your furry best friend. That said, no swimming is allowed on any of the lakes in the park.
The Acadia National Park offers breathtaking ocean shorelines. There are also coastal forest views. When choosing an off-leash hiking trail, try the 27-mile Park Loop Road that's open from April 15 through November. Bring along a 6-feet leash, all your outdoor dog gear, as well as travel dog off-leash gear for this terrific location.
3. Kealia Trail, Hawaii
The main trail consists of a 7.6 mile trail that captures scenic views of Waialua and Haleiwa towns, and the north shore of Oahu. When opting for the best views, trek to the top of the Kealea Trail to spot Dillingham Airfield and the awesome wing gliders that seem to be everywhere. A fun hike for both you and your pooch that's open to the public, and is dog friendly where you can enjoy terrific Hawaiian wild flowers.
The trail is open year round, but it does get hot in the summer when there's only moderate shade. Note that the last part of the hike is difficult, and you may prefer just doing the first part. As usual, bring plenty of water, collapsible dog bowls, and your dog's bandana together with all your outdoor dog gear!
2. Government Peak to Hatchers Chalet Traverse: Fishhook, Alaska
From the great peaks and awesome lakes that you can enjoy with your furry best friend while following the ridgeline to the center of Hatcher Pass, you'll find wildflowers and snowy mountain peaks nestled throughout this beautiful landscape. With plenty of hiking, biking, and skiing, the off-leash dog hiking trails in Hatcher Pass is terrific.
Don't lose your way along the ridgeline, or you'll have to trek through some brush with Fido.  Keep your pooch hydrated during all off-leash hikes with the collapsible dog water bowls that you can place inside your dog backpack for hiking. As usual, always keep a spare dog leash for hiking along with an extra collar and harness to ensure your dog's safety during an off-leash hike.
1. Boulder Valley Ranch Loop, CO
If you're into a relaxing off-leash trail with your favorite doggo, then this may be for you! Boulder Valley Ranch Loop offers wide paths and rolling terrain that's safe to hike through with family and friends. Keep in mind that your dog needs to be well-trained off leash, and should listen to your recalls.
Dogs enjoy the awesome terrain where they can meander under cottonwoods, and run through wide paths. What's great about this off-leash loop is that you can be of any fitness level. After snowstorms, the off-leash dog trails dry fast, making this a fantastic destination for pets and pet parents.
As with all outdoor dog camping adventures, don't forget to bring along extra dog collars and leashes for hiking, as well as a comfortable dog backpack for your pooch. Large dogs should have backpack that are made specifically for a large dog breed, and smaller dog breeds should have a dog backpack sized specifically for a small dog breed.
For off-leash runs and camping trips, experts recommend travel dog food and water bowls, so that you can keep your furry best friend well-hydrated at all times. The collapsible bowl allows for more room in your backpack, and is compact and lightweight. You can carry this in your pocket for convenient use when hiking. Before going off on a hike with your furry best friend, have wildfire preparedness in mind for both you and your dog.
Happy Travels!