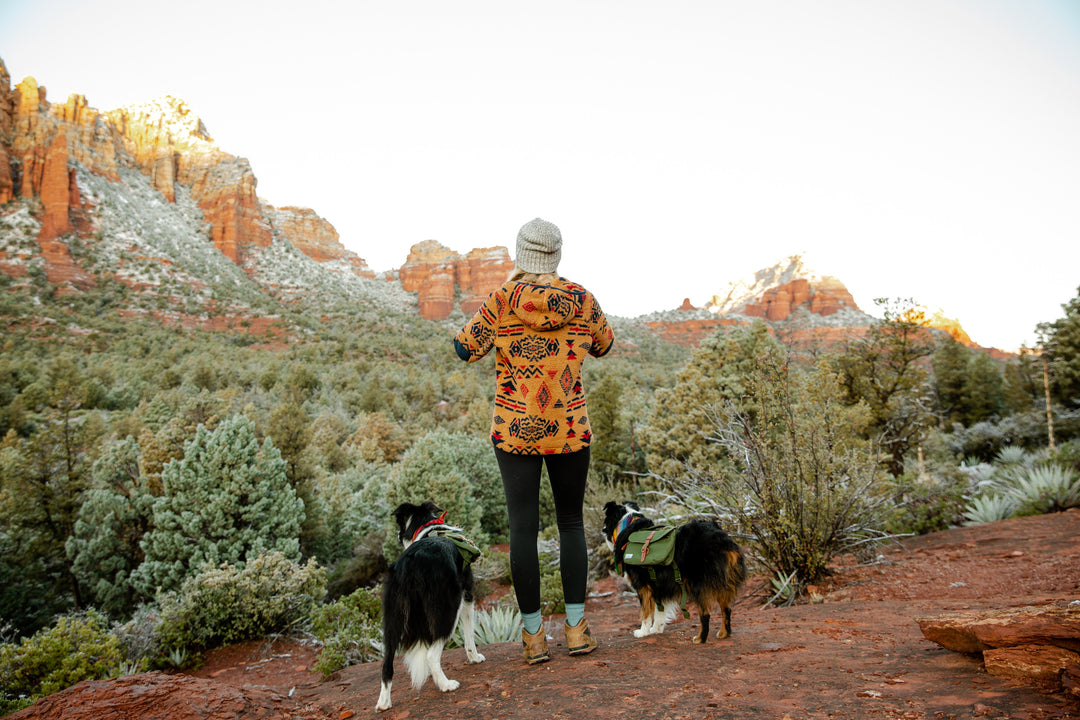 Posted on
---
We sat down with Ashley and her pups Winston and Nell to find out more about their favorite hikes, raw food diet, and how they got their adventures became huge on Instagram.
Tell us a little more about you. 
My name is Ashley and I've lived In Denver with my husband for over 6 years! I work as a financial advisor during the week and on weekends we love to go hiking in the beautiful Colorado mountains. Winston is a 5-year-old border collie and Nell is a 4-year-old mini Australian Shepherd.
When and how did Neil & Winston come into your life?
My friend had gotten one of Winston's brothers in Arizona from a working farm and I fell in love with the photos of him. There was one last boy who needed a home and the rest is history. I saw a picture of Nell online and had been looking for a sister for Winston and just knew immediately she would be joining our family.
What motivated you to create the @5280coloradodogs Instagram account?
I started it because after I got Nell, her puppy pictures for overtaking my personal account, and I felt bad about that! So I created one for them for fun!
An Aussie and Border Collie are a high energy duo! How do you keep them stimulated mentally and physically? 
We hike at least 1-2 times a week, go on walks, and we have a very large yard for them to run around in. We also do training sessions inside to stimulate their mind!
From your 2019 Hike Story Highlight, it looks like you averaged about 2 hikes per week which is really impressive! What was your favorite dog-friendly hike of the year and why? 
My favorite hike was Blue Lakes trail in Ridgeway. That entire area of Colorado is by far the most beautiful to me, and we go every year for my birthday. 
What hikes are on your list for 2020? 
 One of my biggest goals was to take the dogs to my home state of AZ to explore Sedona and we've already done that! Next up will be some bucket list dog-friendly hikes in Washington and near the Oregon coast this summer! 
What is your favorite gear for hiking with your dog? 
Our essentials are a sturdy dog leash and collar, their Wolf Republic packs, Only Natural Pet treats and Ruff Bar. 

What do Nell & Winston carry in their Ranger dog backpacks?
They carry treats and waste bags!
How are Nell & Winstons' personalities different, and how are they similar? 
Winston is extremely sensitive, snuggly, confident, and independent. Nell is more insecure, clingy to me, but very very funny.
What is your secret to taking such amazing photos of your dogs?
Practice! I taught myself with the help of others answering my questions, reading articles, and just practice. I use Lightroom to edit my photos and shoot with a Canon 5d mark iv and a Canon 24-70mm f/2.8 lens primarily.
What advice would you give to people who want to start posting photos of their dog? What makes a great photo? How did you build your following? 
I had no intention of building a following, it just kind of happened! Post what you love and don't worry about what anyone else thinks! I personally love photos that show the bond between dog and owner so I try to show that in my photos :)
Where can people find out more about you?
They can feel free to message and follow me on Instagram @5280ColoradoDogs