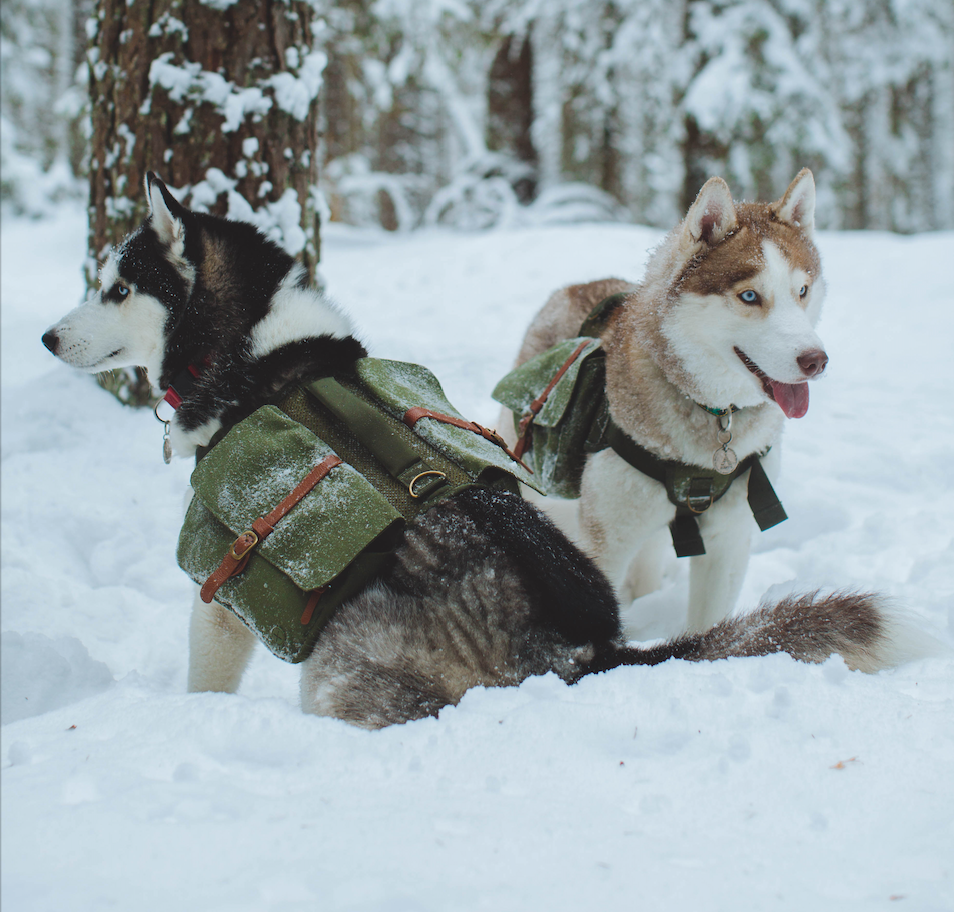 Posted on
---
Photo: @denipros
Thanks to all the active dog breeds out there, there's no excuse for not finding the perfect active dog breed, and going for that long hike! Active, independent dog breeds require vigorous activity that also involves participation from you together with forty-five minutes to one-hour of exercise per day, at least four to five days a week.
 Most active dog breeds also enjoy dog sports like agility, Frisbee, dock diving, and hikes, and need plenty of mental stimulation. In this article, we'll show you the 20 best active dog breeds to keep up with your active lifestyle. If you're a hiking enthusiast and love the outdoors, there's no better way than spending time together!
If you're the proud pet parent to an active dog breed, and want to try out hiking and outdoor camping adventures, you'll need to first ensure that both you and your dog are up the challenge. Safety precautions against wildlife encounters or overheating, and even frostbite means providing your dog with the right outdoor dog gear! 
Don't forget the importance of also combining everyday recreational sports like running, biking, swimming, and boating to keep your adventure dog fit. Outside of home, you'll need to maintain the same safety precautions for both you and your dog like exercising during the early morning hours during the summer months, and adding a frozen bandana to help keep your dog cool.
As usual, all puppies should not begin heavy exercise until they're at least between 18 to 24 months old to prevent hip dysplasia and other sporting injuries. Additionally, you'll need to consult with your veterinarian to make sure that your dog is up to it, and also discuss the best dog food diets and treats for your active dog breed.
Outdoor Dog Supplies
Deciding what to bring along with you can be a difficult task! With so many dog hiking gear options out there, you'll need to opt for style, comfort, durability, and function of each dog hiking product to make sure that you have the perfectly prepped dog adventure kit for that hike. Outdoor dog gear made especially for hiking ensures comfort and safety. Additionally, if you purchase a high-quality product, it will last for a while. Here are some benefits of high- quality dog gear essentials for hiking the trails, and enjoying outdoor adventures with your pooch:
Makes it easy to hike with your pooch

Money-back guarantee

Trail essentials like water, dog treats, dog lifejackets, waste bags, and first aid kits should fit nicely inside a functional dog hiking backpack.

Portable & collapsible food and water bowls can attach easily

Look for zippered pockets and magnetic easy-open straps for speedy access when hiking
Hiking with dogs has become so popular today! You're out there enjoying plenty of clean, fresh air infused with woodsy scents. Your furry best friend gets to carry his own dog backpack with his supplies, while you carry yours.
Special dog leashes for hiking and dog collars made especially for hiking are a must, and should hold up for years of outdoor canine adventures. Bringing along a spare lightweight dog hiking leash and collar, and a cooling vest for dogs helps to ensure safety.
GPS trackers help to track your pooch if they're off-leash. LED collars are also great for night travel, and can fit your existing collar. Most have a long-battery life. You can also add on a collar light to help see your dog in misty conditions or where there's heavy fog.
Dog backpacks and harnesses should always be of the right fit, and should never restrict your dog's movement out on a hike. If you're camping overnight, don't forget to add in a lightweight sleeping mat, so that your furry best friend can rest comfortably.
Monthly flea and tick preventatives protect your dog from parasites like fleas and ticks when hiking. Frozen or wet bandanas will help cool your dog down while out hiking. Dog snow boots that are waterproof and insulated help to protect your dog's paws and keep them warm, some of them also offering traction on icy terrain.
Whether you choose a Malinois or Australian Shepherd, opt for your dog's safety first, and ensure that your dog is physically ready to go out hiking. Examine your lifestyle before adopting or purchasing an active dog breed for hiking, and understand that you'll need to prepare your home for a new dog.
Not everything is going to be perfect on your first hike, and you may be anxious. That said, hiking with friends makes for a fun dog hike. Just make sure that all dogs get along before trekking out! Your dog will also need to be trained, so that he responds to you while out on a dog hike.
If you live in a cool climate, consider an active Northern dog breed that does well in the cold. Beware of hiking in warm weather, and some of the hazards that come with it like lethal strains of blue-green algae found in stagnant water. That said, there are numerous dog hiking meetup groups throughout the U.S., and around the world. Now let's begin with the 20 best active dog breeds for hiking.
20. The Leonberger
Photo: memorizedbyeveliinanokelainen
The Leonberger originated from Germany, and is part of the UKC Group. This breed makes for one of the best hiking companions, and enjoys a variety of activities like backpacking, sledding, hiking, and carting. Gentle, fun, and playful, this large dog breed does well carrying a super-sized dog backpack with all outdoor dog gear like collapsible bowls, and extra leashes and harnesses.
19. Shetland Sheepdog 
Hailing from Scotland, the Shetland Sheepdog, known as the Sheltie, is an ancient dog breed that descended from spitz-type dogs. The Sheltie belongs to the AKC Herding Group, and has a high-activity level.
Intelligent, quick, and obedient, the Sheltie is easy- to train, and also enjoys a variety of dog sports, some of which he excels at like agility, herding trials, and obedience. So bring along that denim dog bandana and your favorite dog backpack! You'll most definitely enjoy hiking with this hard-working and sweet dog breed!
18. German Short-Haired Pointers
Photo: adventures.with.willow
As part of the AKC Sporting Group, and the UKC Gun Dog Group, the friendly and easy-to train German Short-Haired Pointer is also another German dog breed that is high-energy. Developed in the 19th century from a German bird dog, which was a pointer type dog breed that probably came from the Spanish Pointers, this medium-sized dog breed makes for a terrific hiking and sporting companion. 
The German Short-Haired Pointer was first bred as an all-round dog breed for the purpose of pointing, evening trailing, and retrieving on both land and water. The short hair, and athletic body type allows for this breed to be better suited for sporting activities in warm climates.
17. Vizsla
Photo: vinnythevizsla
Also known as the Hungarian Visla, the lively and good-natured Vizsla is not only a proven athlete, but easy-to train. As part of the AKC Sporting Group, and perfect for long hiking adventures, this awesome dog breed will follow your commands most especially around other dogs and people.
If you're an ardent hiker, the Vizsla dotes on the outdoors with plenty of space. The Vizsla has a high-energy level, and is also responsive to commands. This breed excels at so many levels; companionship, stamina, endurance, speed, and navigating tough trails.
Just remember to keep your Vizsla well-hydrated with the collapsible bowl, extra dog leashes and collars in case they're needed. 
Before heading out to hike with your Vizsla, there are a few important things to bring along. Sturdy dog collars and extra dog hiking leashes with a bandana, first aid kit supplies, treats, dog food, and lots of water are key to being prepared for every hiking trip with your furry best friend.
16. Weimaraner
Hailing from Germany, the energetic Weimaraner or the "Gray Ghost" belongs to both the UKC, Gun Dog Group and the AKC, Sporting Group. This high-energy dog breed group excels at agility, fieldwork, obedience, and thrives on being in the outdoors. This breed does well with regular exercise, hikes, and plenty of outdoor adventures.
The Weimaraner was bred to hunt large game, and later adapted to hunting birds. This breed is not only dynamic, but has plenty of stamina, and can work for hours at a time. Separation anxiety may be your only issue since this breed hates being left alone. The Weimaraner enjoys being busy, with plenty of outdoor activities, as well as being right next to you 24/7!
Be sure you can handle this breed's activity requirements. If you're new to hiking, make sure that you do it right and that your Weimaraner has a good training foundation, so that he'll respond to your commands. As usual, start slowly and build up endurance for both you and your dog, so that you don't have to stop half- way, and turn back.
15. The Welsh Springer Spaniel
This breed comes from Wales, and belongs to the UKC, Gun Dog Group, and the AKC, Sporting Group. The outgoing Welshie is not only intelligent, but an active dog breed that was bred to flush game in the field.
An easy breed to train, the Welshie makes for a terrific choice for those with an active lifestyle that enjoy hiking out in the countryside with family and friends. Not only is this breed super sweet, but they're so devoted to family and get along well with other dogs and people.
This breed is not aggressive, and is a great watchdog. That said, you'll need to keep an eye out when hiking because Welsh Springer Spaniels have a tendency to wander.
14. Portuguese Water Dog
The Portuguese Water dog originated from Portugal, and was bred to help with fishing by herding fish into the fisherman's nets, gather fish, and retrieve lines. Belonging to the AKC Working Group, the Portuguese Water Dog is easy- to- train, and loves to please. This breed enjoys the water, and has webbed feet for swimming, and a high- activity level.
This is an ideal dog breed to take hiking, with plenty of endurance. The Portuguese Water Dog is a courageous and spirited dog breed with an adventurous personality.
The AKC adds "An animal of spirited disposition, self-willed, brave, and very resistant to fatigue. A dog of exceptional intelligence and a loyal companion, it obeys its master with facility and apparent pleasure. It is obedient with those who look after it or with those for whom it works."
13. Rhodesian Ridgeback 
Belonging to the AKC, Hound Group, the Rhodesian Ridgeback is truly one of the best hiking dog breeds, and perfect for just about any type of outdoor adventure. The athletic Ridgeback hails from South Africa, and was bred to hunt large game and guard. This breed was used to track and hunt lions, and also to keep them at bay.
"A mature Ridgeback is a handsome, upstanding and athletic dog, capable of great endurance with a fair (good) amount of speed. Of even, dignified temperament, the Ridgeback is devoted and affectionate to his master, reserved with strangers," AKC.
Strong-willed, powerful, and athletic, the Rhodesian Ridgeback has plenty of stamina and can run tirelessly. With the abilities of a hunter dog, the Ridgeback will not only protect you on your hikes, but makes for a good outdoor companion.
Keep in mind that this is one of the sweetest dog breeds around if socialized well throughout puppyhood. Although reserved around strangers, the Ridgeback is kind, affectionate, and gentle with children and other pets. That said, it is also a very strong-willed dog breed that does well with positive dog training starting early during puppyhood.
The Rhodesian Ridgeback loves to run and exercise outdoors, and does well with dog sports like agility, tracking, and hiking. The Ridgeback needs plenty of daily exercise and mental stimulation so that it does not become bored. Hiking and outdoor adventures make for perfect weekend activities.
12. Czechoslovakian Vlcak
The Czechoslovakian Vlcak (CSV) was bred as a working dog in Czechoslovakia, and was used for military work. Their jobs also included border patrol, search and rescue, tracking, obedience, agility, herding, working dog sports, and police work. The Czechoslovakian Vlcak is part of the AKC Foundation Stock Service Group, and is one of the easiest breeds to train.
The AKC adds that "They have superior eyesight, hearing and sense of smell and are known for having excellent stamina and endurance."
Not only is the Czechoslovakian Vlcak versatile and sturdy as a dog breed, but also independent, and hardworking.
This dog breed does well in all elements, and is brave and courageous. An ideal dog if you live in cold climates and want a sturdy companion for those super long hikes, and adventurous camping trips.
11. Jack Russell Terrier
Small and dynamic, with boundless energy, the Jack Russell Terrier belongs to the AKC Terrier Group. This breed has a robust personality but has a strong prey drive. This is a sporting dog breed that is playful and curious, and also makes for a wonderful hiking companion.
The Jack Russell allows for you to have a compact hiking companion that is sturdy and energetic. Because of its high-prey drive, you'll need to make sure that this feisty dog breed is well-trained before going on hikes. Keep your Jack Russell Terrier on a long dog leash for hiking until you're certain that he's going to not stray far from you on hikes.
This small dog breed does well with the dog backpack for small dogs, and the best dog harness for hiking trails. As usual, make sure your pooch is up to the physical demands, and take it slow at first.
Consult with your veterinarian for a full health check before embarking on any long distance hikes to make sure that your dog is up to it. Just like humans, you'll need to start off with short hikes of half a mile to a mile.
Keep in mind that because some of the terrain may be rough or uneven, hiking takes its toll and is harder on the body than walking. Puppies should start heavy exercise usually at around 18 to 24 months when a puppy's skeletal development is complete.
10. Siberian Husky
 
The Siberian Husky originated from Russia, and is part of the AKC Working Group. This is another breed that does well hiking in cold weather conditions. The Siberian Husky is a fun-loving, adventurous, and super smart dog breed.
Although this dog breed is independent, and at times obstinate, the Siberian Husky is a very social dog that thrives on human and canine companionships. This is a sledding dog breed that also has a magnificent howl.
The Siberian Husky has captured most of the racing titles in Alaska. Today, it remains of the most popular Arctic dog breeds, and is cherished for being one of the best companion dogs, as well as a racing sled dog or even a show dog. The Siberian Husky can run tirelessly for miles, and is quick and light on its feet.
"The characteristic temperament of the Siberian Husky is friendly and gentle, but also alert and outgoing. He does not display the possessive qualities of the guard dog, nor is he overly suspicious of strangers or aggressive with other dogs. Some measure of reserve and dignity may be expected in the mature dog. His intelligence, tractability, and eager disposition make him an agreeable companion and willing worker," AKC
It's important to never shave your Husky during the summer months because the hair protects against sunburn, allergies, and parasites.
9. Doberman Pinscher
Photo: khaleesi_thedobe
As one of the sleekest dog breeds out there, the Doberman Pinscher hails from the AKC Working Group. Vigilant, fearless, and athletic, the Doberman needs lots of exercise and off-leash hikes.
The AKC adds that "The appearance is that of a dog of medium size, with a body that is square. Compactly built, muscular and powerful, for great endurance and speed. Elegant in appearance, of proud carriage, reflecting great nobility and temperament. Energetic, watchful, determined, alert, fearless, loyal and obedient."
This is a low-maintenance dog breed that's intelligent, loyal, and makes for a great hiking companion. If not well-trained and well-exercised, the Doberman may become frustrated and destructive. This breed is reserved with strangers, and may be aloof around other dogs. At times, it may be domineering and stubborn.
That said, this active dog breed needs to be kept well-hydrated with folding or collapsible hiking water bowls. A small amount of food is needed, in case of an unexpected overnight stay or if you're delayed. Dogs that are heat sensitive should hike during the early mornings when its much cooler. A frozen bandana around your dog's neck will help to keep him cool.
8. Boerboel
The Boerboel enjoys hikes in rough terrain, and is a dog breed that has plenty of endurance. Originally from South Africa, the Boerboel just makes for one of the best hiking dog breeds out there. This dog breed belongs to the AKC Working Group.
The Boerboel has a strong-willed desire to work and please, and is always quick to learn. This breed was bred as a farm guardian and used for protection against wildlife. With plenty of socialization and positive training, the confident Boerboel enjoys hitting the trail.
The Boerboel enjoys swimming in lakes and rivers, and is always calm and confident in all situations. Keep in mind that all dogs should not hike in temperatures above 80 degrees which is considered too hot for most dog breeds to engage in strenuous exercise.
Grab a hiking harness for large dog breeds, and all your outdoor dog gear, and enjoy the sensitive and smart Boerboel by partaking in plenty of outdoor adventures!
"The Boerboel is a dominant and intelligent dog with strong protective instincts and a willingness to please. When approached is calm, stable and confident, at times displaying a self-assured aloofness. He should recognize a threat or lack thereof. He is loving with children and family, "AKC.
7. English Foxhound
The English Foxhound is a high-energy dog breed that was originally a pack hound, and used in tailing fox. The breed hails from the U.K, and belongs to the AKC Hound Group. This dog breed enjoys being a companion dog, but needs plenty of exercise. This is an easygoing dog breed with plenty of stamina, that was bred to run for miles.
The Foxhound is a scent-driven and sweet dog breed that's pack oriented. The AKC adds that "Since they are bred to run for miles, they can make good hiking and running companions. Daily long, brisk walks are important for this breed. As scent hounds, they may want to run off and explore an interesting scent, so it is important to keep the dog on leash unless in a safely enclosed area."
If your goal is to have fun with outdoor adventures every weekend, you'll need to establish a daily exercise routine for both you and your pooch. Dogs shouldn't be sedentary all week, and outdoor hiking superstars over the weekends!
Start with a mile walk, increase to a 5-mile walk, and do this slowly! Once your furry best friend is comfortable with the 5-mile walk, gradually increase distance as your pooch becomes well-conditioned.
6. Cane Corso
If you're opting for a protective large dog breed with tons of stamina, the Cane Corso is another working dog breed that belongs to the AKC, Working Group. This breed may at first seem intimidating, but is actually super smart, easily trainable, and a blast to hike with. This is a mastiff breed that was bred to hunt large game in Italy. The Cane Corso is a dog breed that was bred to work, making this dog breed a perfect trail partner during most weather conditions.
The AKC adds that "The Cane Corso as a protector of his property and owners is unequaled. Intelligent, he is easily trained. Noble, majestic and powerful his, presence is impressive. He is docile and affectionate to his owner, loving with children and family." As an active dog breed, the Cane Corso is quiet indoors, but thrives on mentally stimulating outings like hikes, herding, and lots of dog sports.
5. Greater Swiss Mountain Dog 
As a strong draft breed, the Greater Swiss Mountain dog enjoys the outdoors, and especially plenty of cold weather. This breed hails from Switzerland, and is part of the AKC Working Group. Dependable and faithful, the Greater Swiss Mountain dog can trek for as long as ten-miles. Described by the AKC as "Swissies are immensely strong, yet agile enough to move a flock across the sloping foot of a mountain." 
This majestic breed's original function was as a draft dog, herding dog, and today the GSMD has become a most popular companion breed. Calm and easygoing, extremely gentle with children, the GSMD also enjoys pulling. That said, it's important to avoid hiking in hot weather because this breed is prone to heat sensitivity, and does best in cold climates.
This is a wonderful dog breed to share hiking adventures with. Keep in mind that the Greater Swiss Mountain Dog does best with a collar and leash, and no harness because it tends to pull much more on a harness.
4. The German Shepherd
Photo: zeusandnala
Belonging to the AKC Herding Group, the German Shepherd is among the most intelligent of dog breeds. This combined with working versatility, agility, and trainability makes the amazing German Shepherd one of the best hiking partners that you can have by your side!
The AKC describes this wonderful dog breed as "The breed has a distinct personality marked by direct and fearless, but not hostile, expression, self-confidence and a certain aloofness that does not lend itself to immediate and indiscriminate friendships. It is poised, but when the occasion demands, eager and alert; both fit and willing to serve in its capacity as companion, watchdog, blind leader, herding dog, or guardian, whichever the circumstances may demand."
This dog breed is an all-purpose worker that must have a job at all times. Loyal, smart, and sometimes domineering, the GSD is always there for you 24/7.There are very few breeds as devoted to family.
That said, the German Shepherd needs to hike in the right conditions in moderate terrain and in cooler weather conditions. As usual, it's necessary to build up endurance slowly with all dog breeds, even if your breed is a highly active one. This breed adores having a large dog backpack and will carry it willingly wherever he goes!
4. The Belgian Malinois
The high-energy Malinois is always ready for an outdoor adventure! Slip on that backpack, dog harness, and don't forget the water and food bowls. The Belgian Malinois originated from Belgium, and belongs to the AKC Herding Group.
The Malinois was bred to herd, and today is used in the police force and military. Alert, smart, and aloof with strangers, the Malinois can be domineering at times. That said, this breed is a pleasure to train, and does well with plenty of socialization.
The AKC describes this awesome dog breed as "confident, exhibiting neither shyness nor aggressiveness in new situations. The dog may be reserved with strangers, but is affectionate with his own people. He is naturally protective of his owner's person and property without being overly aggressive. The Belgian Malinois possesses a strong desire to work, and is quick and responsive to commands from his owner."
So, if you want an active dog breed that's just terrific to be around and that keeps up with you on outdoor adventures hikes, the Malinois is the dog for you!
2. The Border Collie
Photo: 5280coloradodogs
Few dog breeds are as work oriented and high-energy as the Border Collie. The Border Collie needs tons of physical and mental activity, so you'll need to satisfy this dog breed's need for work. The Border Collie belongs to the AKC Herding Group, and is very responsive to training.
This breed has plenty of stamina, and covers lots of ground in a short period of time. The AKC adds that "This high-drive, athletic breed is extremely energetic and requires daily
 

exercise

 

beyond just a walk around the block or a quick romp in the yard. They thrive when they have a job to do and space to run. A Border Collie who doesn't work must be provided with vigorous exercise every day."
The Border Collie moves with stealth and strength, and has plenty of endurance. But what's fun about this dog breed, is that it displays considerable agility, and can work for long periods, changing speeds and direction instantly. The Border Collie is intelligent, gentle, eager, and fun to go hiking with. If you want a sweet and sensitive hiking companion, then this breed is for you.
1.The Australian Shepherd 
Photo: olivertheaussieboy
Topping the charts as the best dog breed for outdoor adventures and hiking trails, the Australian Shepherd enjoys a good workout every day, and is best known as the cowboy's herding dog of choice. This breed thrives on both mental and physical challenges, and has a great deal of stamina and speed.
Playful, fun-loving, yet alert and confident, the Australian Shepherd was bred to herd sheep, and belongs to the AKC Herding Group.
This dog breed was bred for the outdoors, and is great for trekking through rugged terrains and most outdoor activities. Not only is the Australian Shepherd responsive to training and utterly devoted to family, this breed excels at agility, obedience, herding, and conformation. That said, because the Australian Shepherd may try to herd small children or pets by nipping gently, you'll need to begin positive dog training early.
"Aussies bond closely with their owners and love to accompany them on long walks—or, better yet, hikes. Once an Aussie leaves puppyhood behind, and his skeletal system is fully formed, he can make a great running companion," AKC