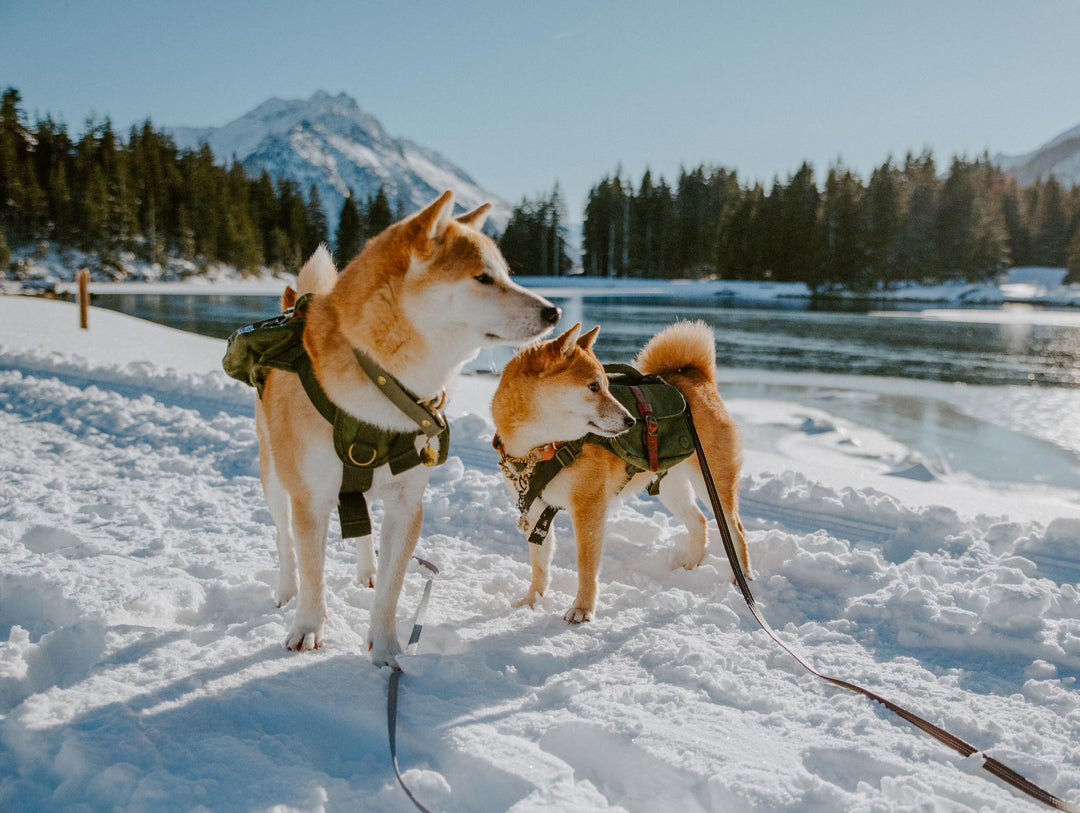 Posted on
---
Photo: @mywildswiss
Hiking and outdoor adventures with your furry best friend involves more than taking a few hiking essentials with you. What you have in your dog first aid kit is of paramount importance! No adventure is complete without the best dog hiking backpack that will stand up to the test of the most rugged dog hiking adventures. Being, safe, comfortable, and well-prepared with Fido means having the right dog hiking essentials with you.
If you're planning on spending time with your furry best friend hiking, and enjoying an awesome outdoor adventure, you'll need to plan ahead of time, and most importantly, you'll need to make a list of all the essential hiking gear and first aid items that you need to pack in your Ranger Pack. 
With wildfires burning throughout California and Oregon, driven by strong winds racing through thousands of acres in no time at all, it's no surprise that you'll need to be well-prepared when out hiking with your dog just in case a natural disaster affects you. To help you out, we've come up with a list of some essential dog first aid and adventure equipment, to make your outdoor adventure safer, and more fun!
Building Your Hiking Dog's First Aid Kit
During an emergency when out hiking with your dog, you want to be fully prepared. If you have a well-prepared first aid kit for your adventure dog that can be packed inside your hiking dog backpack in case of an emergency, you'll be able to help your furry best friend.
Emergency Contacts & Medical History
It's also important to have paper work with your dog's information, vaccine and medical history included, as well as any current health conditions included. Phone numbers of your veterinarian, family members, and emergency contacts should be included.
Veterinary Supplies
You won't need to bring every single veterinary product needed for emergencies, but just the most important ones that cover common ailments, and can keep you covered for numerous emergency situations with your dog while you're out hiking.
Dog Hiking Essentials 
If you enjoy spending time outdoors with your furry best friend, you'll know why no dog hiking adventure is complete without durable and high-quality dog hiking essentials. That said, no matter how skilled you are, you'll need to play it safe by packing all your hiking essentials ahead of time, so that you don't leave anything behind.
You can also keep a second pet first aid kit inside your car in case you need it together with a to-go dog hiking backpack for emergencies. Remember, that apart from your first aid kit, you'll need to think about bug sprays, sunscreens, doggy goggles, lifejackets, GPS Trackers, reflective vests, and more!
When shopping for dog first aid kits, you'll need to decide whether you want a pre- made kit or if you want to build your own first aid kit for Fido.
Wildfire Preparedness
Thanks to global warming, wildfires are becoming more common affecting pets, people, and livestock. According to Fido Friendly, and the San Francisco Fire Department (SFFD), "When it comes down to wildfires, there's nothing more important than being fully prepared and ready to evacuate with your pets. That means having all the essentials ready like food, water, bowls, pet meds, supplements, and of course, extra leashes and collars, dog toys, together with bedding, blanket, crate and medical records for Fido. Have a safe place to take your pets ahead of time."
One of the best ways to be prepared is to assemble two portable pet disaster supply kits. SFFD, Lt. Jonathan Baxter adds "Think first about the basics for survival, particularly food and water. Consider two kits. Set aside everything you and your pets will need to stay where you are. The other kit should be a lightweight, smaller version you can take with you if you and your pets have to getaway. Be sure to review your kits regularly to ensure that their contents, especially foods and medicines, are fresh." 
Ideally, when you're out on an adventure trail with your dog, you need to be well-prepared with your Ranger Pack and your first aid kit for dogs inside.
The Ranger Pack is the perfect dog backpack for carrying first aid items that will work for both you and your dog in case of an emergency that can happen at any time. From wildfires, allergic reactions, broken bones, toxic algae, cuts, heat exhaustion and more, you'll need to understand how to treat your dog if he's injured or ill, and what to look out for.
Parasites and Diseases That Can Affect Your Dog
Most dogs enjoy swimming in warm weather and even lapping up water from common recreational sources. That said, no matter what outdoor activity you're enjoying, you'll need to ensure that your dog stays away from stagnant bodies of water, rivers, lakes, and streams, most especially if he has a cut anywhere on his body, to avoid the following:
. Leptospirosis
. Phythiosis, otherwise known as swamp cancer (contracted in warmer climates)
. Blue/Green algae from freshwater lakes and ponds
. Giardiasis
. Cryptosporidiosis
. Canine schistosomiasis
. Pseudomonas
Before allowing your dog to go swimming while on an outdoor hiking adventure, you'll need to make sure that you "know" the water. The same is to be said with where your dog puts his paws. If you're not sure about the water, don't let him near it.
As usual, if your pooch shows signs of illness after a hike, visit your veterinarian and discuss any possible health risks from the water. During any hike with Fido, it's best to pack along pet meds for an upset stomach in your Ranger Pack in case he gets diarrhea from stagnant or contaminated water.
Toxins
Animals are more sensitive in general to certain poisons because of their size and metabolism. If your dog consumes a toxic plant, or has an allergic reaction to a plant or insect, you'll need to know how to help him right away. The Pet Poison Hotline is available 24/7.
Dog Hiking Injuries
If you suspect that your furry best friend has an injury, you'll need to keep calm, and use common sense. If you've brought along a well-packed first aid kit for both you and your dog, you should be prepared. Cut and scrapes can be treated in the same way as human cuts and scrapes, where you'll need to clean and cover an open wound.
Eye Wash/Saline for Dogs
If your dog gets something in his eye like dirt, a seed or even an insect, you'll need to flush it out. Make sure to aim for the corners of the eye. A basic saline solution is available at any pharmacy.
Benadryl for Allergies
Benadryl, also known as Diphenhydramine, is an antihistamine, used for allergies in humans and dogs. Pet parents are often advised to give Benadryl to their pets for an allergic reaction. That said, today you can also try out pet CBD which has fewer side effects than Benadryl. Cannabidiol (CBD) can help dogs with skin allergies, inflammation, itchy skin, and may also help promote a healthy coat and skin in dogs, so this may be perfect to take along when out hiking.
CBD for Arthritis
If your furry best friend is suffering from mild arthritis, and you're planning a short and laid-back hike, think about taking along a pet CBD. Full-spectrum hemp oil extract that's rich in CBD manages pain, increases appetite, helps with depression from pain, and also decreases inflammation. CBD may also be beneficial for allergies.
Hemp Oil for Young Dogs
According to Sit & Stay "When you administer a joint supplement to a young dog before they are affected by the joint disease (prophylactically), you'll be providing protection against sensitive joint tissue issues.  A high-quality nutraceutical will enhance hip and joint health in dogs, and also increase the production of hyaluronic acid and collagen in the joints. 
Glucosamine, Chondroitin & MSM may relieve joint discomfort & stiffness

MSM may help chronic joint pain & may fight joint health deterioration

Omega-3 fatty acids with EPA & DHA may reduce inflammation from the osteoarthritis

Shark Cartilage to support connective tissue, fortify joints, bones, ligaments, and tendons.
First Aid Kit for Pets
First aid kits for dogs like the Kurgo Brand sold by Chewy comes fully prepared with everything that you'll need for both you and your furry best friend.
Key benefits of this pet first aid kit include:
50-piece essential first aid kit that is stylish and functional.

Bottle opener/hook closure–hook portion closes & allows it to be hung when open.

Oxford 600D fabric with twill tape binding for durability.

3 interior zipper mesh compartments.

Exterior zipper pocket.
Parachute Cord, First Aid Guide, Sting Relief Pads, Tweezers (Plastic), Tape Role, Crepe Bandage 2", Cotton Swab, Tongue Depressor, Antiseptic Towelette, Instant Cold Pack, pair) Disposable Rubber Gloves, Gauze Pad 4" x 4", Gauze Pad 2" x 2", Gauze Roll 2", Trauma Pad 5" x 9", Alcohol Prep Pad, Thermal Foil Emergency Blanket, Scissors, Iodine Prep Pad, Bottle Opener, First Aid Bag. 
Learn how to wrap a sprain before going out hiking so that you're fully prepared in case of an emergency. You can also add in extra stretchy bandages or self-stick ice bandages together with your dog hiking bandana, collapsible water bowl,  dog hiking leashes, and other dog hiking gear to your dog backpack. There are numerous benefits to having extra stretchy bandages, since these can be used in case of a snake bite or heavy bleeding.
MultiTool
With every dog hike, you'll need to pack one of these with folding pliers. They're used for removing porcupine quills, thorns, and so forth.  
Harnesses or Collars & Leashes
No matter how well-trained your dog is, you'll need to bring an extra dog hiking collar, leash and harness. These need to be sturdy, durable and made for active dogs that enjoy the outdoors. Outdoor hiking adventure dogs  need specialized high-quality hiking dog products that are made with good materials, and that fit your dog comfortably.
Keep in mind that dog hiking harnesses, collars, and leashes that are made for the outdoors need to fare well in water and mud. You should be able to just rinse them off or wipe them down.
Look for leashes that offer the following like Wolf Republic's dog hiking leash that features the following:
Length of leash adjusts from 3' to 6' for flexibility during training months or situations where you need more control. 

Adjustable handle with side release buckle; can be handheld, worn around the waist or easily secured around a tree or post. 

Accessory loop for clipping on accessories or attaching pick up bags.

Military-grade stainless steel cobra buckle 
The Camp Bowl
This collapsible dog bowl is perfect for feeding or hydrating your dog on the go and preventing dehydration. It's compact and lightweight enough to fit into your Ranger Pack. The collapsible hiking bowl easily fits in pockets for convenient storage. Created with a waterproof liner and functional snaps to create a bowl wherever adventure takes you. 
Features: 
Lightweight, packable design

Collapses flat for easy storage

Waterproof liner

Genuine leather trim
Photo: Dane Deaner
Ranger Pack
A dog backpack that's ideal for day hikes and overnight adventures outdoors. With excellent fit and functionality, the Ranger pack lets your best friend help with the gear load wherever nature takes you.
Made with genuine leather and trail-tough canvas.  Wolf Republic's Ranger Pack is convenient because it helps you carry some essential adventure equipment for your both you and your dog, including your pet first aid kit.
The Ranger Pack has four expandable pockets, two with zippered closure, perfect for storing food, water, and other trail necessities. 
The Ranger dog hiking backpack is perfect for outdoor adventures because it features the following:
Features: 
Two points of leash connection on all-in-one dog backpack harness: Metal D-rings on the top back, and front chest harness to help handle pups that like to pull.  

Padded handle and breathable mesh lining for maximum comfort and fit while also keeping pups cool on warmer adventures. 

Four expandable pockets, two with zippered closure, perfect for storing food, water, and other trail necessities. 

Magnetic strap closures on pouches for easy access with genuine leather trim and metal accents 

Easy pet waste pick-up bag dispenser
Final Thoughts 
Being fully prepared before going out hiking with your dog means getting organized ahead of time, and having fully stocked dog first aid kits.
Watch videos on pet first aid before going out on an outdoor adventure, and even think about prepping yourself by attending a dog first aid class at a local community college or veterinary clinic, so that you have first-hand practice.
From dog reflective sleeping bags, pet-friendly tents, to lightweight travel dishes, and the perfect Ranger Pack, be prepared for being out in the wilderness during rain, wind, and hot or freezing temperatures.
Most importantly, take care of your dog's paws, and use dog summer or snow boots and paw balms to eliminate lacerations, blistering or freezing surfaces, and even cactus needles.