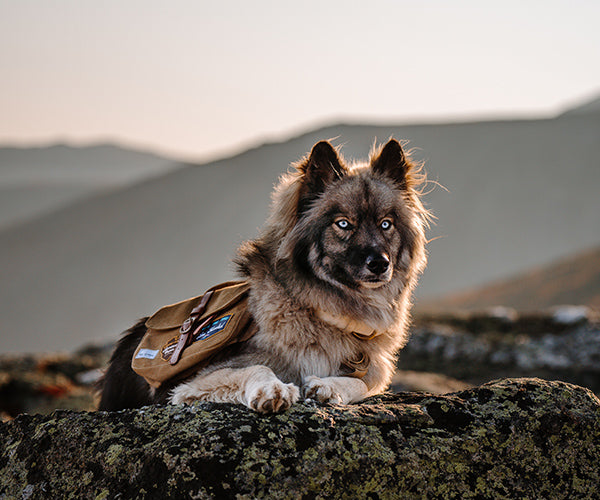 Posted on
---
Photo: @findyoursummit
Adventure trails and long hikes may be exciting, but if you feel that you and your furry best friend are ready to try out a dog friendly National Park, there may be certain rules and regulations that you need to follow with your pup! So, get your furry best friend ready with a dog hiking bandana, and pack that Ranger Pack for an awesome outdoor adventure! 
Don't worry! Pet-friendly National Dog Parks can be tons of fun if you have a well-behaved dog! With each park having different restrictions, you'll find some more accommodating than others. But before you head out, check out some of our favorite Pet Friendly National Dog Parks!
Dog-Friendly National Parks
Spending time outdoors with family and pets at dog-friendly National Park means enjoying the outdoors and wilderness. In addition, just because you're spending so much time working indoors during COVID-19 doesn't mean that your furry best friends be deprived of fun outdoor hiking adventures.
That said, before you embark on one of these, you'll need to ensure that you follow all National Park Pet Policies, and that you also have a well-trained pup. All pet –friendly National Parks offer-scenic hiking trails, but with one condition in mind! Your furry best friend needs to be on a 6-foot leash. The most common National Park rules are as follows:
Dogs need to be on a 6-foot leash at all times.

Dogs need to be with you at all times, and cannot be left unattended in vehicles or campsites.

Use doggie bags at all times!

Dog food needs to be secured away from wildlife.

Dogs generally are not allowed to stray from paved roads or walkways.
Bark Ranger Programs
Pet parents visiting National Parks will need to adhere to special safety rules before embarking on their outdoor adventure. BARK is an acronym that stands for all the guidelines bark rangers abide by including: 
Bag your poop

Always use a leash

Respect wildlife

Know where the dog-friendly trails are before venturing out
Collect Bark Ranger Badges
As an official Bark Ranger, your pup will be officiated and you can purchase a special tag for your pup's collar or backpack to display proudly in the park. Every park has its own Bark Ranger Tag so you can collect them at each park you visit! 
Just because a National Park has a Bark Ranger program does not necessarily mean that park is more pet-friendly however. Which is why we've compiled our top 6 picks for the most pet-friendly national parks below.  
How to Prepare?
Your dogs rely on you to make smart decisions, and to be fully prepared. Having your dog right next to you while out hiking is so much more fun! So plan your trip ahead of time, and enjoy hiking with your furry best friend at a National Park. Not all National Parks welcome pets, with some confining dogs to certain trails.
With over 407 National Parks in the US, you'll need to check pet policies before you take your furry best friend hiking. Some National Parks have strict pet policy rules to prevent dogs from disturbing wildlife, as well as fauna and flora.
In addition, you'll need to pack all the necessary outdoor dog hiking gear and check as to whether the National Park of your choice is pet friendly, ahead of time. Now enough with the preparation, let's dive into the real reason you're reading this article. What are the most dog friendly national parks? 
 Photo: @murray_the_golden
1. Grand Canyon National Park, Arizona 
The Grand Canyon National Park features the pet- friendly South Rim with a 14-mile paved trail, where you'll get to explore a panoramic landscape with your pup. The elevation is around 6,800 feet, so you'll need to bring along the collapsible dog water bowl for hiking to keep your dog hydrated.
There's also no water bottles for sale, so you'll need to make sure that you pack plenty of bottled water in the Ranger Pack. There's also great kennels where your dog can hang out if you want to explore other area of the park that don't allow dogs.
Opt for the Mather and Desert View Campgrounds that are pet friendly together with the Yavapai Lodge that have pet friendly rooms at an additional $25 fee, and allow up to two pets per room.
Keep in mind that dogs are not allowed below the canyon rim, and this may be the time that you would opt for those great kennels. Summer time may be hot, so you'll need to watch out for heat stroke and dehydration, and hike out during the early morning hours.
Photo: @gypsyjaneairstream
2. Mammoth Cave National Park, Kentucky
Mammoth Cave National Park offers over 70-miles of pet friendly hiking trials, 336 miles of underground passages, and 53,000 acres of lush forest. Keep in mind that dogs cannot go underground. There's some great trails like the Green River Bluffs Trail allowing for some forest hikes, and the spectacular Green River. The North Side Trails feature waterfall trails and old growth forests making this a truly memorable dog-friendly National Park.
Outdoor activities include exciting cave tours, hiking, horseback riding, biking, picnicking, camping, backcountry camping, canoeing, fishing, and some of the most pleasurable driving in Kentucky. You also have the option of either staying at a pet-friendly hotel or on camping grounds with your adventure dog.
Photo @happymercado 
3. Padre Island National Park, Texas
Ideal for those that enjoy coastal adventures and a quick swim with your water dog! Padre Island National Seashore separates the Gulf of Mexico from the Laguna Madre. It's one of the few hypersaline lagoons in the world, and is protected by the park.
Dogs are welcome on a 6-foot leash on over 60-miles of beach in the park which you can access via pet access trails that run from the parking area down to the beach. The campgrounds are pet-friendly, and are open 365 days a year. Permits are needed, though! 
Filled with history, some of which include the Spanish 1954 shipwrecks, Padre Island National Park offers awesome trails with over 130,434 acres of flora, fauna, and recreational pet friendly fun. The Padre Island National Park is renown as one of the most important sea turtle nesting beaches making this destination a great family vacay!
 Photo: @walle_theretreiver
4. Cuyahoga Valley National Park, Ohio
The Cuyahoga Valley National Park, Ohio is located between Cleveland and Akron in northern Ohio, and is refuge for wildlife and plants. It offers pet -friendly forests with winding rivers, and a picturesque railroad corridor.
This park features the winding Cuyahoga river with rolling hills, plenty of farms, and best of all lots of pleasant dog hiking trails. Here, you'll need to keep your dogs away from poison ivy and ticks, and keep them well-hydrated at all times with extra water bottles safely packed in your Ranger Pack. It's also always a good idea to bring along extra dog hiking gear like durable dog hiking leashes and collars with extra tags.
Dogs need to be on a 6-foot leash at all times. This park offers dog -friendly campgrounds, and there's over 110- miles of dog-friendly hiking trails. You'll need to check out the Brandywine Falls Trials with your pup, which is a 1.5-mile loop with plenty of scenic appeal.
Photo: @bpenley77 
5. Acadia National Park, Maine 
Another great dog-friendly National Park that offers over 100-miles of trails with 45 miles of carriage trails. Located on the coast of Maine, there are over 47,000 acres of hiking trails on Mount Desert Island with a few Schoodic Peninsula and Isle au Haut trails. Keep in mind that dogs have around 100-miles of trails to enjoy, because the others need the use of a ladder.
Most of the trails are dog-friendly with the Bar Island Trail, Cadillac Summit Loop, and the Wonderland Trail being most popular for pet parents. Here too, all pets need to be on a 6-foot leash. Keep in mind that leashes help to preserve plants, limit dog and wildlife interactions, and help to protect park resources.
The Acadia National Park offers three campgrounds that welcome dogs, including the Backwoods Campground. This is a top-rated National Park that features amazing landscapes and diverse wildlife.
6.  Shenandoah National Park, Virginia 
Here, there's over 500-miles of outstanding dog hiking trails that will allow you to explore the Blue Ridge Mountains. An awesome mountain adventure on Virginia's east coast, that's only 90-minutes away from the city. There's only a 20-mile run that does not allow for dogs. That said, this seems to be the most pet-friendly National Park in the country that also features picturesque scenery and five campgrounds, as well as pet-friendly resorts.
Apart from exploring the mountain peaks with many of them – 60 reaching summits of over 3,000 feet or higher. If you're one for mountain dog adventure hiking with your dog, this is the place to be! Check out the dog-friendly Hawksbill Mountain, the park's tallest peak at 4,051. You can also trout-fish or simply meander along the dog-friendly famed Appalachian Trail with your pup. Bring your Ranger Pack and fill it with all the necessary outdoor dog hiking gear.
National Parks are fun to visit with family and pets during this time of year. But to make this a fun and safe experience with your furry best friend, you'll need to always adhere to all the National Park pet policies.