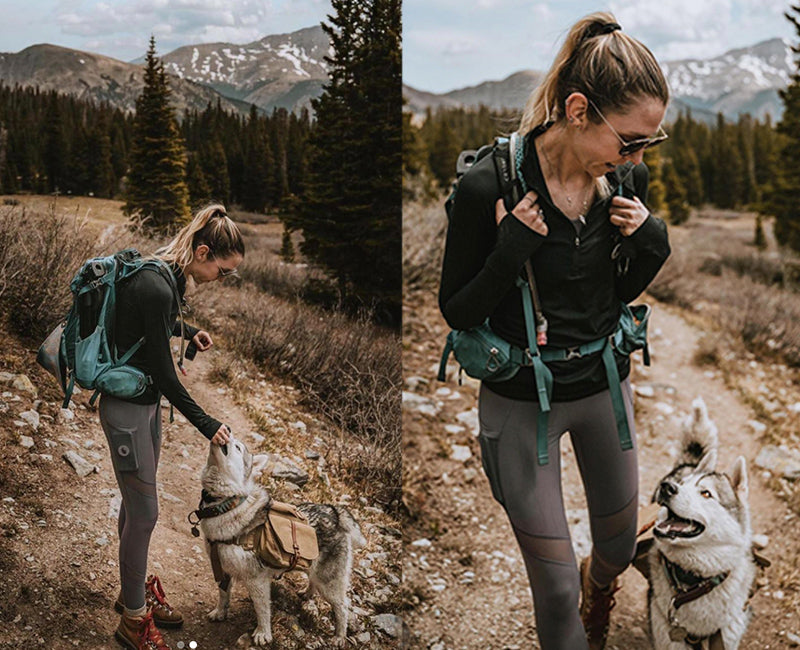 Posted on
---
We all know how much fun backpacking with your dog can be. As hiking partners, our furry best friends keep us happy and in tune with nature. The all-important dog backpack allows you to provide the necessary water and food that your dog will need on the trail. 
Before taking your dog hiking with other people, dogs, and possibly wildlife, make sure that you have a durable dog hiking backpack, and that your dog is in good health, and well-trained. You'll also need to assess your dog's individual needs before heading out, and take any possible setbacks into consideration by packing extra kibbles, water bottles, dog first aid kit, dog hiking gear, and dog backpack.
Start Mini Hikes Early
For active dogs and pet parents, hitting the trail can be a blissful experience. It's wonderful exercise, and you get to spend quality time with your hiking companion. But before venturing out into the wilderness, you'll need to get a high-quality dog backpack for your collapsible dog water bowl, leashes, and extra dog collar for hiking. Taking your furry best friend hiking with you may present some challenges, but here's how to get prepared.
It's no secret that dogs enjoy hiking on trails. Many dogs enjoy cooling off in water, so it's always a good idea to prep your pups early and get them used to being around water. The best way to get your dog swimming is to start during puppyhood, at the same time that you would begin positive puppy training. Believe it or not, many highly- strung dogs may become nervous or disobedient when crossing rivers.
At the same time, you can also get your dog used to being in the outdoors by starting off with short hikes, and even weekend adventure trips with the family. You'll need to prepare with some endurance training before hiking outdoors. Also get your dog used to responding to a whistle in case he dashes off somewhere.
Once your dog is used to hiking outdoors, visit camping sites so that he becomes used to being around strangers and sleeping by your side. Exposing pups to new people and environments during puppyhood helps with socialization during puppyhood, and encourages dogs to relax and become comfortable when away from home for long periods of time.
Prepare for Short Hikes First
Some dog breeds make better hiking companions than others, with many mixed dog breeds enjoying an intensive dog hike. That said, there are some breeds that should never go out on long trails. These breeds include brachycephalic dog breeds like the Pug and Bulldog. 
Nowadays, it's common for pet parents to consult with their veterinarian, and have their dogs go in for a check-up to ensure that they're healthy and fit enough to go hiking. Just like humans, you'll need to start off slow and get your dog used to short trails until your dog is fit enough to go on longer trails. Your dog should have all the correct dog hiking gear including the following:
Dog backpack for hiking

Dog leash for hiking with ID tags

Dog collar for hiking

Collapsible water bowl for hiking

Dog bandana to keep him cool and to differentiate him from wildlife

Dog harness

Kibble

Water bottles

Treats

First aid kit

Choose The Most Appropriate Dog Hiking Trails for Your Dog
Numerous U.S National Park trails do not allow dogs, so you're going to have to do your research ahead of time. Look for the best trail that will be most appropriate for your dog's fitness level, and yours too!
There's no point opting for arduous trails when you're first starting out. Pick trails closest to home, and that have fewer distractions at first. Once your dog is used to short trails and gets the hang of things, you'll be able to do more intensive hikes. Here's how to choose dog hiking trails for your pup when first embarking out.
If your dog gets easily excited, opt for safe, short trails with less distractions

Opt for a trail that is dog-friendly and is a short drive from home

Check to see if there's water on the trail

Avoid harsh environments

Check to see if there's dangerous wildlife, poisonous snakes, scorpions, hazardous waterfalls or steep cliffs

Check temperatures, shade, and fresh water availability

Learn how to pack your dog's hiking backpack properly

Ensure that you understand trail etiquette

Don't forget your dog hiking booties and bandana

Brush up on positive dog training cues for optimal safety
These are all the questions that you need to ask yourself before venturing out on dog hiking trails with your furry best friend. Most dogs are capable of going on short hikes. With that said, you'll need to consult with your veterinarian if you have a pup, or senior dog or a dog that has health issues before trekking out. 
Even the most careful pet parent can have a mishap when out backpacking with their dog. Picking shady trails with soft ground instead of gravelly off-trail routes with steep drops or hot surfaces minimizes the risk of injury to both you and your furry best friend.
 As usual, always look out for toxic plants and avoid overexertion, most especially during the hot summer months when you'll need to hike in the early mornings or late afternoons.
How to Pack a Dog Hiking Backpack Properly?
If you're planning a short or long-distance hike with your dog, you'll need to keep him safe and comfortable. Take a look at all your dog hiking equipment, and make sure that nothing needs to be replaced.
Examine your harness, dog hiking collar, leash, and dog hiking backpack and see if the stitching is strong, and won't tear apart easily when outdoors dog hiking. Keep in mind that broad straps are most comfortable for large active breeds, and will have less chance of digging into your dog's skin and chafing him.
 Ensure that you have doubled up on everything including ID tags, even electronic ID tags. Consider the Wolf Republic Ranger Pack to keep your pup safe and sound. Wolf Republic makes high quality harnesses, leashes, collars, dog camping collapsible bowls, and other dog hiking products with your dog's safety and comfort in mind. 
The American Kennel Club (AKC) adds that you should pack plenty of bottled water with you. "It's also essential that you take water for your dog. Dogs don't sweat the way humans do. Panting is their main method for keeping cool, putting them at a higher risk of overheating than you when on the trail. Plus, if you don't bring water for your dog to drink, you risk your dog drinking from ponds, streams, or standing pools of water, which can carry a high risk. Unknown water could be contaminated with parasites, bacteria like
 

Leptospirosis, or other pathogens that can make your dog very ill." 
Water, together with the collapsible water bowl prevents your dog from drinking out of water sources that may have pathogens. Your dog will drink more water than usual when out hiking. You'll also need to bring along kibble and dog treats with a high protein and fat level that will provide the much needed energy for dog trail hiking.
You'll need to bring along an extra cup of kibble for every 20 pounds of dog. High-protein dehydrated dog food like Sundays Food for Dogs is perfect for every adventure dog because it's super lightweight, and a healthy alternative to kibble.
To keep your dog safe in backcountry also means bringing along a good dog first aid kit. While out on an adventure hike with your dog, you'll need to promote safety and comfort, and prevent injury.
Yet, even the most experienced dog hikers can have something unexpectedly go wrong. To save space, you can also use a small Ziploc bag with the most important dog first aid kit essentials. Keep in mind that insect stings are common during hikes, and that you'll need to bring Benadryl, and pet CBD for pain, inflammation or anxiety. 
Planning your outdoor adventures with your furry best friend ahead of time allows for enjoyable overnight hikes. Keep in mind that you'll need to remove his pack often in- between rest stops to allow for less stress on joints and back.
If you pack lightly and properly, your dog will be more comfortable. While encouraging your dog to be active is important in keeping him healthy, you'll need to find the right type of trail for your dog.
As usual, keeping your dog well-hydrated throughout your outdoor adventure is key to avoiding a health emergency when hiking. Check the local dog hiking regulations before trekking out, and opt for hiking trails to match your dog's fitness level. Be realistic about what your dog can or cannot do, and always tailor your dog backpacking trips to match his abilities.