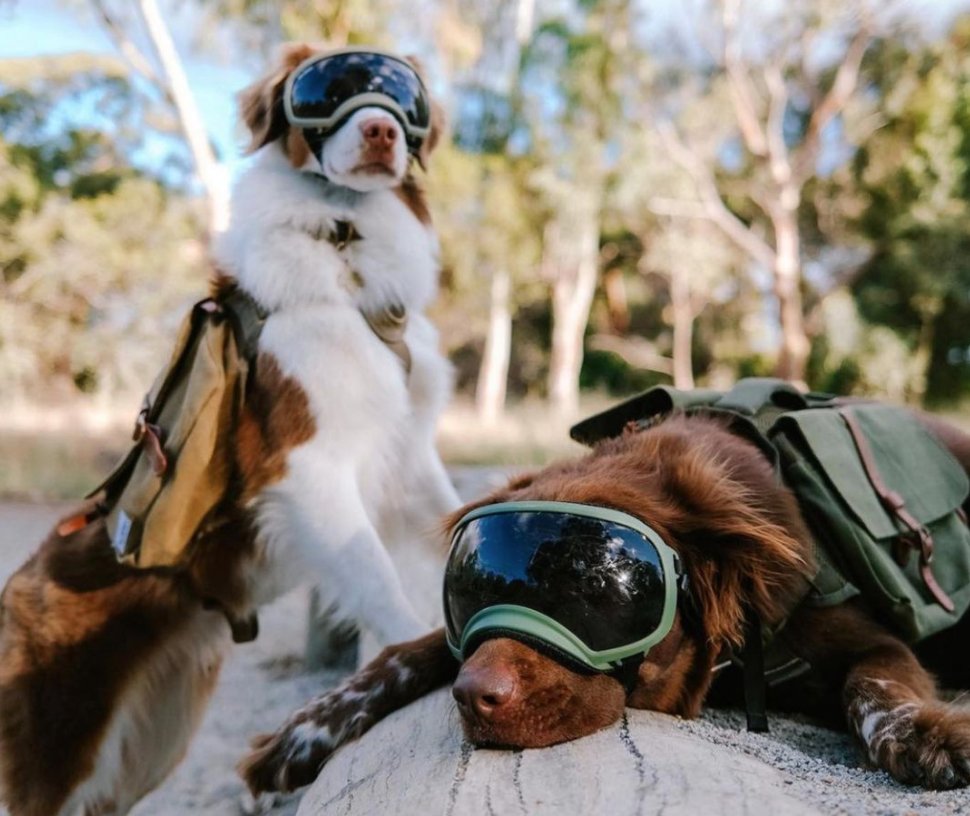 Posted on
---
Photo: @chewy_and_maple
Updated: Feb 1st, 2022
Eight pieces of dog hiking gear that will make your furry best friend much safer and happier on the trail. Not only is hiking with our dogs therapeutic and calming but hiking with dogs allows for stronger bonding and understanding of our furry best friends. Before hitting the trail, you'll need to understand that if you're not well-prepared and don't start up slow, it can be brutal.
In almost any outdoor activity, your pup may be exposed to things that he's never encountered before. If you and your dog spend plenty of time outdoors hiking, you'll need to think about all the special hiking gear for your dog. That means planning your hiking trips with Fido ahead of time and, of course, getting your pup fit. 
To avoid any injuries to your pup, begin with short day hikes on easy trails and gradually work your way up to build endurance and strength. Just as with humans, it takes a while to get fit. If you're planning on hiking with a senior dog, consult with your veterinarian for a full physical to ensure that your senior dog has no health issues.
To help you out, we've come up with the best dog hiking gear with all the necessary adventure equipment that you'll need for safety and comfort. That said, keep in mind that your pup should never go out hiking without his GPS collar. They're ideal for tracking dogs on off-leash hikes. In our best dog hiking gear review, we'll list some of our best dog hiking gear that you'll need to take with you.
Photo: @talesofarlo 
Designed specifically for long, multi-day hikes, the Ranger Pack lets your dog carry his weight. No matter what outdoor activity you enjoy with your pup, he'll need a good dog hiking backpack to carry supplies and food.
If you're planning on introducing your dog to a backpack, you'll need to switch over from collar to harness. When your dog gets used to wearing a harness, you can begin by doing a few short hikes with an empty backpack. Gradually start adding a few items inside, but keep in mind that your dog should not carry more than 25% of its weight at the end of the day.
Featuring real leather and trail-tough canvas, our Ranger Pack is crafted with a padded handle and is designed with a breathable mesh lining for optimal comfort and fit, all the while allowing your pup to keep cool on warmer days. Four expandable pockets, two with zippered closures, make for easy storage for food, water, and treats.  
The saddlebag compartments feature two zippered pockets with a magnetic comfortable genuine leather strap and convenient hole to grab pet waste pick-up bags in a flash. With touch leather canvas, it's easy to customize your pack with patches and pins or badges for service dogs. The Wolf Republic Ranger Dog Backpack comes in sizes S-L, so it is the perfect backpack for small dogs and an excellent backpack for large dogs. 
Pair our dog backpack with the Scout Leash for easy adventuring, whether in the great outdoors or navigating more high traffic urban areas. Keep in mind that you should distribute weight evenly between the Ranger Pack's two pouches to keep it balanced. There are also weight carrying limits for dogs, and it's important to note that weight should not exceed over 25% of dog weight. If your dog is a senior pup or has any health issues, it may be best for him to carry less weight. Consult with your veterinarian for the best advice.

Photo: @mywildswiss 
2. A Trail Tough Leash & Collar for Hiking 
The next time you hit the trails, make sure you have one of these and pack your bag with extra water, dog food, treats, poop bags, and your first aid kit. Wolf Republic's Scout Leash can be handheld or worn around the waist. It can easily be tied around a tree or post when needed.
 We like this leash: the military-grade stainless steel cobra buckles and the accessory loop for clipping on accessories. Wolf Republic's Scout Collar is crafted with comfortable nylon webbing complete with military-grade buckles and hardware. This durable dog collar is simple and comfortable and features a side-release buckle for quick and easy use.
Photo: @ournorthernwild
3. Dog Goggles - Rex Specs 
Today many dogs are diagnosed with some sort of eye ailment before they turn 8. Many eye issues can be avoided by using dog eye goggles. When doing so, you protect your dog's eyes from harmful UVA & UVB rays, debris, brush, and even sand on a windy day. We like these goggles as the soft foam edge and the large spherical lens design to allow for a full range of vision while active outdoors and having fun. 
Made for active pups that enjoy the outdoors, Rex Specs protect your puppy from eye trauma, UV rays, and any other outdoor hazard that could affect your dog's eyes while out. These are awesome for biking trails and offer dogs optimal debris protection keeping eyes safe and clean. 
The frames are costumed designed with high-quality, durable lenses designed with an adjustable strap system for optimal comfort and safety. The Rex Specs K9 is designed to fit all dog breeds and features six goggle size options from extra-large to small wide. We love these because they allow for maximum freedom and full jaw motion throughout all outdoor activities.
Here's the take on these awesome dog hiking goggles:
Blocks 99% of UVA & UVB rays

Lenses are impact-resistant and feature optimal visibility.

Great for active dogs that are tough on all dog hiking equipment

Prevents puncture and trauma eye injuries

Crafted with breathable mesh

Water-friendly and can be used in water
4. Travel Bowls - A Lightweight, Collapsible Camp Bowl for Food & Water
When out hiking, you want to be as lightweight as possible. The Wolf Republic Collapsible dog bowl is a collapsible dog bowl that is perfect for feeding or hydrating your dog on the go. It's also compact and lightweight, making it fit easily in pockets for convenient storage.
Created with a waterproof liner and functional snaps to create a bowl wherever adventure takes you, it takes up a very small space. It's also leak-proof and collapses flat for easy storage. It features a waterproof liner and is stylishly crafted with genuine leather trim. The camp bowl is perfect for walks, hikes, camping trips, and of course, those wonderful road trips. Read more about the Wolf Republic Collapsible Bowl in our Ultimate Guide to Road Tripping with Dogs blog.
Photo: @justbeingfarley
5. Paw Protection
In hot, dry climates, you'll need to add a set of booties to protect your dog's feet from hot and rocky surfaces that can result in paw cracks. Paws need protection from rough terrain, water, hot surfaces, and snow. The Ruffwear Polar Trex dog snow boots allow dogs to have comfort, traction, and warmth while outdoors in wintry conditions. Just as you would protect yourself from cold weather, you need to do the same for your pup.  
Polar Trex snow boots are crafted with an insulated softshell upper for breathable, weatherproof warmth in icy weather. The Ruffwear-designed Vibram® Icetrek™ outsole offers traction on frozen surfaces and is a barrier against cold and snow-melt chemicals.
Here's the take on these functional dog boots:
Features reflective trim for optimal visibility

Crafted from a polyester blend with WR finish (face: 87% polyester, 13% spandex, backing: 100% polyester) (bluesign® approved)

Hook and loop closure

Outsole: Vibram® Icetrek®

Air dry
We like these dog boots because they're also waterproof and windproof. Don't forget to bring along a tub of Musher's Secret Dog Paw Wax formulated with 100% natural food-grade waxes and oils to protect your pup's paws. This recipe was developed especially for sled dogs and also contains vitamins and beeswax to condition cracked paws.
6. Travel Dog Beds
The best backpacking dog bed allows for your pup to sleep comfortably while outdoors hiking. The bed should be light, easy- to- fold and carry, and easy- to- clean. It should be made from a water repellent fabric and should be fast to dry.
 We like the Dog Bed Sleepy Graphite Outdoor dog bed. Not only is this bed a high-quality dog bed that consists of four individual, circumferential chambers, it's also filled with low-noise and dimensionally stable granulate beads, as well as a separately inlaid, hand-filled mattress, which does not sag even after years, retains its shape.
 The Pendleton™ Glacier Pendleton Pet Bed features three sizes and is crafted from non-pill polar fleece. It's also reversible to a quilted diamond cotton canvas. Dog beds for outdoor hiking trips must be portable, light, water-resistant, and durable. You can also opt for durable ripstop nylon features and compressible options.
7. Snacks
Opt for treats that you can break apart easily as a reward, yet large enough to be seen from far if you need to get his attention quickly. Dog treats are an excellent way to get your pup to pose for wilderness hike pictures.
Being on a trail all day means that you'll need to bring more food, water, and treats than your dog usually consumes. Healthy treats like Zuke's natural dog treats and chews are crafted in the US and are free of corn, soy, fillers, by-products, and artificial colors and flavors.
Prefer to make your own hiking snacks? The dog cookbook by Liviana Prola features over 50 easy to follow recipes with easy to prepare meals and home made dog treat recipes for all dog breeds. The recipes are simple with healthy guidelines. The cookbook also features portion sizes for all dog breeds and is great for multi-pet households. Additionally, there is supplement information to keep your pup in optimal health. As usual, consult with your veterinarian if you're thinking about switching to home-cooked recipes.
8. Pet First Aid Kit 
Pet first aid kits are a must-have for every dog hike; even it's a day trip. We recommend the Pet First aid kit that fits neatly into every backpack. This kit is not compact but carries all first aid kit necessities you may need while hiking with your pup. This includes the following:
Antiseptic wipes

Bandages

Scissors

Injury tape

An ice pack
Photo: @billywolfco
9. Coats
Beyond the essentials, you can add the Joey Workwear Coat, an excellent accessory for the pup who loves to stay dry in the great outdoors. Crafted with warm Sherpa lining, the Joey keeps your dog warm and comfortable. Easy to machine wash, the Joey Workwear coat ships in eco-friendly packaging.
Make sure to pack a Joey for your next outdoor adventure with Fido. The Joey is the perfect outdoor accessory for the cold winter months, available in numerous sizes for all dog breeds, from extra small to XX-large.
10. Dog Shampoo
After a long day's hike, there's nothing better than a spa treatment with some Harlow Harry shampoo. From first aid kits to snacks, it never hurts to bring along the perfect dog shampoo by Harlow Harry to keep your pup looking his best. This is a conditioning shampoo free of parabens, sulfate, SLS, formaldehyde, and a vegan brand free of toxins and harmful ingredients.
Final Thoughts 
As with any hiking trip, always pack extra food for your dog because backpacking burns tons of calories, and your pup will need extra energy. You'll also need to pack excess water to keep your dog hydrated. Water may be contaminated where you may be out hiking, so you can never have enough clean drinking water. Pack all your stuff in zip lock bags to keep them from getting wet if it rains, and bring along all the essentials so that you can enjoy a better camping experience with your dogs.