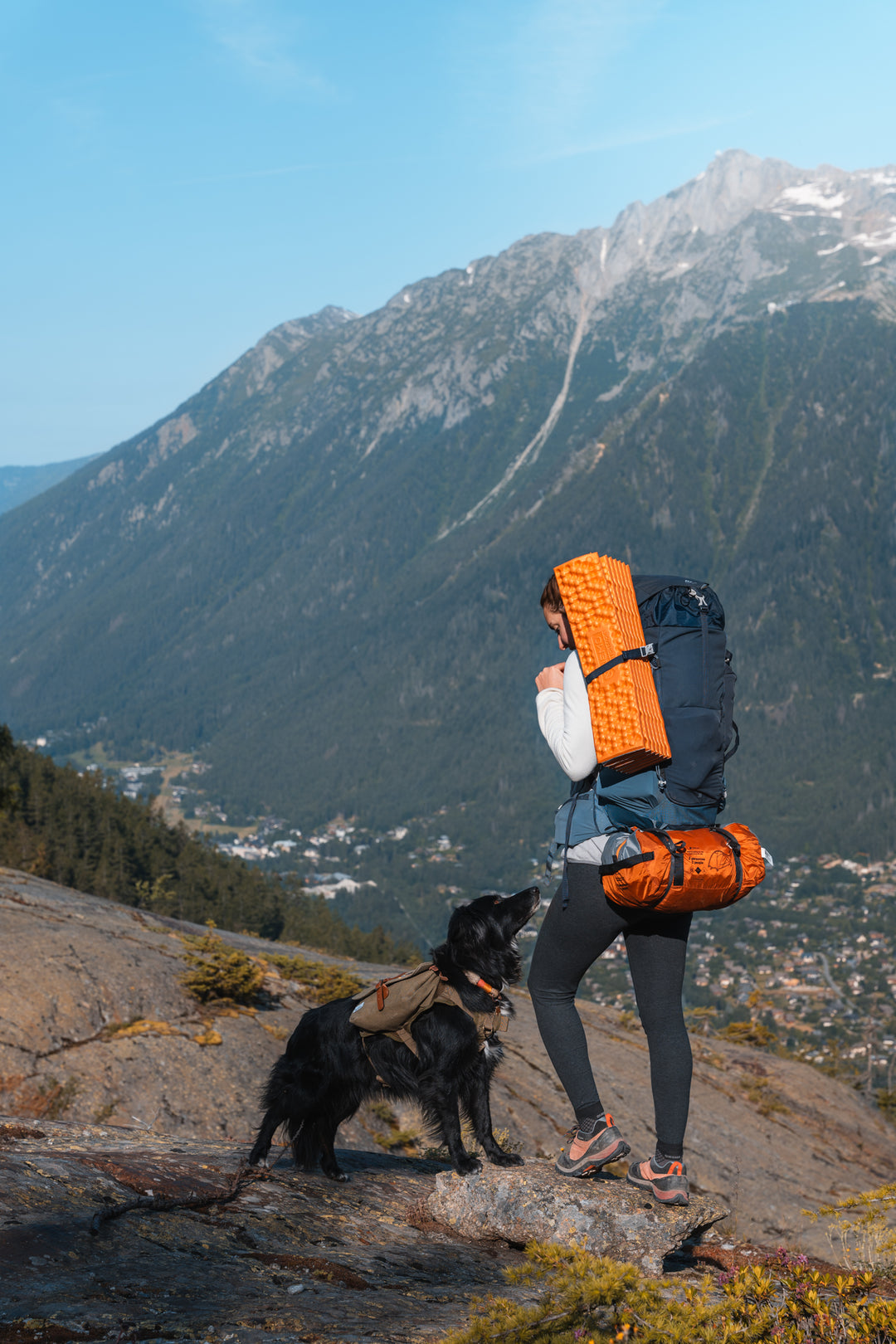 Posted on
---
Meet Mathilde and Tonin, a spirited couple with a passion for hiking and adventure. Their journey into the world of hiking began with the purchase of their campervan in 2016, sparking a desire to wander off the beaten path and explore the wonders of nature. With the addition of their Border Collie/Setter mix, Houna, their hiking experiences took on a whole new level of joy and companionship. In this article, we follow Mathilde, Tonin, and Houna's captivating escapades, discovering the magic of hiking with a canine companion and the unforgettable moments that have forged an unbreakable bond.
The Beginning of a Hiking Adventure
For Mathilde and Tonin, their campervan became a gateway to the world of hiking. As they embarked on road trips, they found themselves drawn to the allure of nature and the promise of exploration. Short walks around their overnight spots gradually evolved into more ambitious hikes. The desire for a furry companion to share in their adventures led them to adopt Houna, a Border Collie and Setter mix.
Preparing for Hikes with Houna
Preparation is key to ensuring enjoyable and safe hiking experiences, both for humans and their pets. Mathilde and Tonin never venture out without their trusty backpacks, which always contain essentials like water, a windbreaker jacket, collapsible bowls, leashes, first aid kit, poop bags, and treats for Houna. This thoughtful approach ensures they are well-equipped to face any challenges along the way.
The Cathartic Presence of Houna in Nature
Hiking with Houna is a source of immense joy and catharsis for Mathilde and Tonin. Houna's boundless energy and infectious enthusiasm for the outdoors inspire them to cherish every moment. Watching their canine companion revel in the natural beauty around them encourages the couple to appreciate the simple pleasures and beauty of the wilderness, "It's really a pleasure for us to see her (Houna) running around and enjoying nature. It makes us focus on something other than ourselves or our problems" say Mathilde and Tonin.
Unraveling the Tale of Their Favorite Hike
Among the many unforgettable hikes, Mathilde and Tonin's most cherished memory is the trek from the French village of Bonneval-sur-Arc to the Grand Méan glacier. This journey was a breathtaking introduction to high mountain hiking, "during the 7 hours of walking we crossed landscapes each more beautiful than the other, gorges filled with turquoise blue water and a waterfall." From ancient Roman stone bridges to glacial lagoons and the awe-inspiring glacier and lake, the hike was a symphony of nature's finest creations.
Memorable Moments That Strengthen Their Bonds
During their favorite hike, Mathilde, Tonin, and Houna encountered moments of true bonding. "There was a difficult passage where you had to climb a cliff using cables fixed in the rock. Tonin had to carry and push Houna so that she could climb." The companionship and shared experiences of hiking have deepened the bond between Mathilde, Tonin, and Houna. "When she's not on a leash, Houna likes to get ahead of us even though she always keeps an eye on us." Houna's attentiveness to her human family's pace exemplifies the remarkable understanding and complicity they share.
A Funny Hiking Mishap
In a memorable camping night, Houna couldn't resist the allure of a nearby lake and decided to take an unexpected midnight swim. "So it was like 10pm, we couldn't see anything but the light on her harness moving in the darkness." A hilarious game of fetch with a stick became the perfect solution to coax her ashore. The evening concluded with a wet but content Houna snuggled in the tent.
Dreaming of Norwegian Landscapes
Mathilde, Tonin, and Houna dream of embarking on a hiking adventure in Norway, particularly in the Lofoten region. With its majestic mountains, pristine fjords, and breathtaking vistas.
Looking Forward
Mathilde, Tonin, and Houna's story is a testament to the beauty of hiking with a beloved canine companion. Their journey together has unveiled the wonders of nature, enhanced their bond, and taught them the importance of living in the present. With each step they take, they continue to create memories and hope their story inspires others to embark on their own hiking adventures.