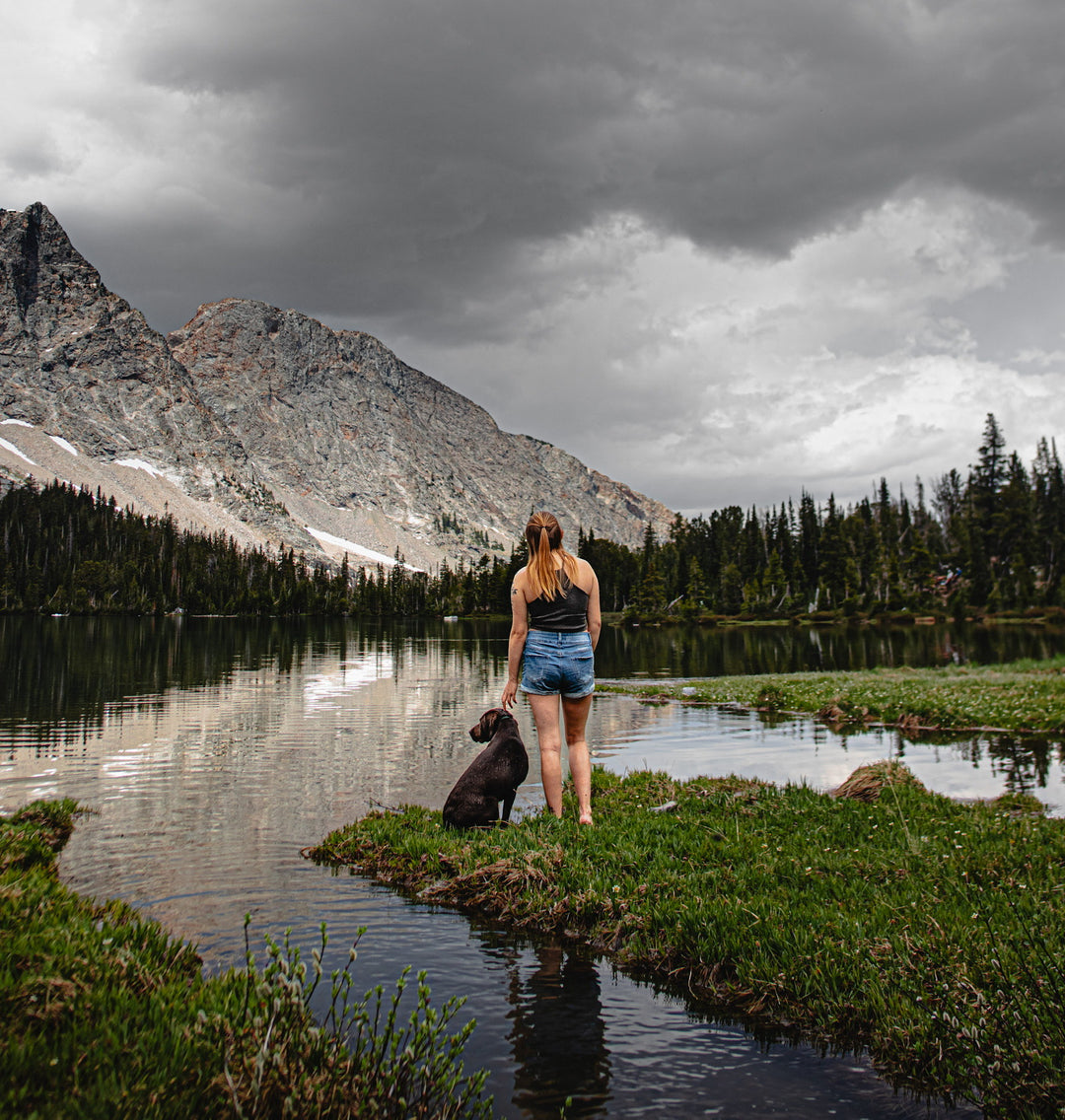 Posted on
---
Meet Kaelyn and her beloved companion, Indie, a delightful chocolate Labrador with a spirit for adventure. Kaelyn's love for hiking blossomed after she welcomed Indie into her life. Together, they have explored scenic trails, conquered challenges, and built an unbreakable bond. In this article, we dive into Kaelyn and Indie's hiking escapades, the gear they carry, their favorite hike, and the special moments that have shaped their unforgettable journey.
Kaelyn's journey into hiking began with the arrival of her loyal four-legged friend, Indie. Before Indie's presence, Kaelyn hesitated to venture into the wilderness alone. "I didn't actually get into hiking until after I got Indie. With her canine companion by her side, she found the courage and joy to explore nature's beauty. Hiking became a transformative experience, connecting Kaelyn to the great outdoors like never before.
Essential Gear for Hiking with Indie
Preparation is key to a successful hike, and Kaelyn ensures both she and Indie are well-equipped for their adventures. Along with her trusty camera to capture picturesque moments, safety remains a priority. "Safety-wise, I like to bring pepper spray or bear spray since I sometimes hike alone." But when it comes to gear, Indie takes the spotlight with her own set of essentials. Treats, extra leashes, poop bags, and her e-collar ensure Indie's safety and comfort. Her trusty Wolf Republic pack also adds a sense of responsibility to her outdoor excursions.
The Bonding Experience with Indie
For Kaelyn, hiking with Indie goes beyond just exploring nature; it deepens the bond they share. Indie looks up to her human companion, relying on Kaelyn for guidance and protection on the trails. The profound trust and connection between them are evident in the way Indie seeks out Kaelyn whenever they get separated. Being side by side throughout the journey, they forge an unbreakable friendship, creating cherished memories along the way. "Being able to bring her along and show her beautiful locations fills my heart. I know she enjoys the adventures as much as I do."
The Enchantment of Goose Creek Falls 
Among the many hikes they've embarked on, Goose Creek Falls stands out as Kaelyn and Indie's favorite. This trail holds a special place in Kaelyn's heart as it was the first challenging hike she conquered independently, accompanied by her ever-enthusiastic furry friend, Indie. The trail's breathtaking scenery, cascading waterfalls, and lush landscapes provided the perfect backdrop for their shared triumph.
Unforgettable Moments
Hiking with Indie has led to countless heartwarming and funny moments. One such comical incident occurred during their favorite hike when Indie decided to play tug-of-war with an unsuspectingly heavy branch. "Indie grabbed a very long branch, not knowing just how much it weighed, or how long it was. I turned around just in time to see one end of the branch slam into a tree while she went flying backwards." Indie was just fine and this memory remains etched in their hearts, a reminder of the joyous times they've shared on the trails.
Dreaming of Hiking in Canada
As their adventurous spirits continue to soar, Kaelyn dreams of embarking on a grand hiking expedition to Canada. The allure of Canada's azure blue lakes and the promise of paddle boarding adventures leave Kaelyn eager to explore. In the future, she would love to paddleboard and swim with Indie in these crystal clear waters.
Looking Forward
The journey of hiking with Indie has been a life-changing experience for Kaelyn and Indie. From overcoming fears to creating beautiful memories, their bond has grown stronger with each trail they've conquered together. Her adventures with Indie have opened Kaelyn's eyes to the wonders of the great outdoors, inspiring her to dream of exploring even more breathtaking locations around the world. As they continue their hiking escapades, Kaelyn and Indie's story serves as a heartwarming reminder of the special connections that can be forged with our pets in nature.