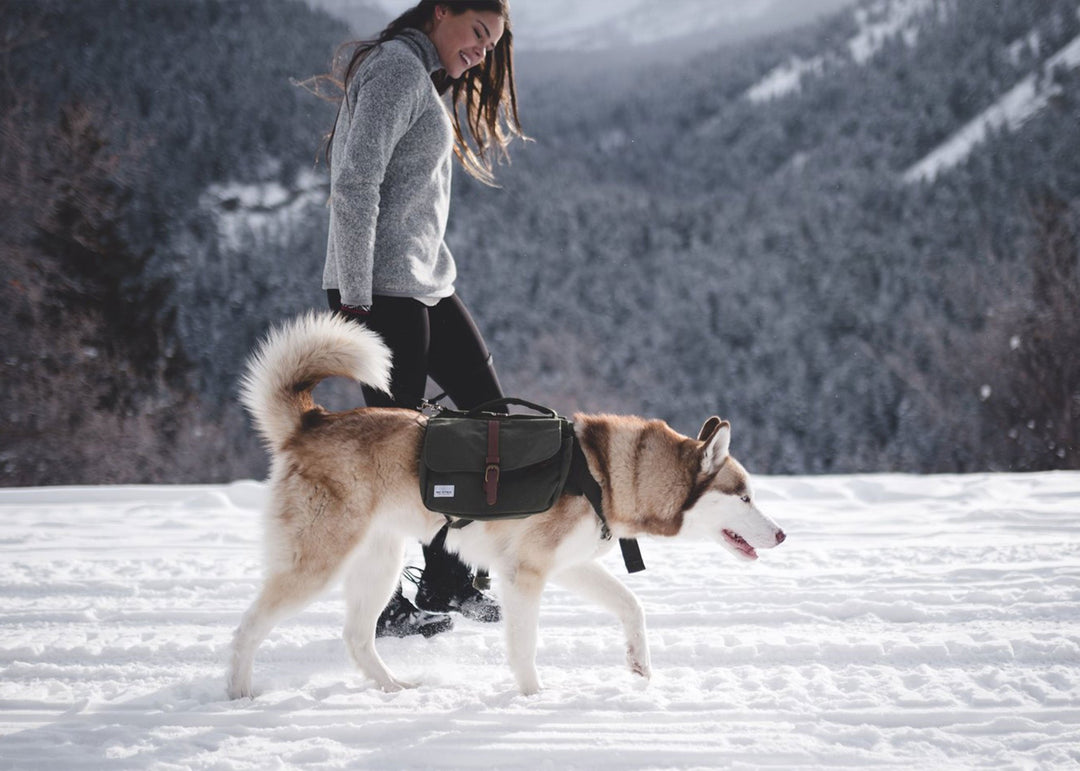 Posted on
---
For many pet parents nothing beats hiking with their dogs. With people paying more attention to their dog's health and regular exercise benefits, finding the best dog hiking backpack for your own dog is key. Function, comfort and durability in a dog hiking backpack is most important. To start exploring the best dog hiking backpacks, a lot depends on your dog! Dog hiking backpacks are an important part of camping gear for dogs. Best of all, many of them include a sturdy dog harness!
Photo: @thefastnfurriest
While the basics for hiking and camping may fit into your own backpack, there are some essential items like dog first aid kit, tennis balls, water bottles, collapsible water bowl and favorite treats that are not too heavy for your dog to carry. Additionally, knowing the carrying capacity of your dog breed and fitness level allows for more accurate dog hiking backpack choices. Training your dog positively with clicker training will help with outdoor adventures and hiking, and help your dog understand what you're wanting when out on a trail.
Photo: @mywhiskeygirl & @redbarkphotography
With so many dog hiking backpacks to choose from, finding the right one for your hiking companion may be challenging. Keep in mind that you'll need to throw in that frozen bandana and Kong for those early summer morning hikes. Shorter day hikes will not need as many supplies as long camping trips. Understanding what you'll be using the dog hiking backpack for will help you to make a suitable choice. That said, always remember to use flea and tick prevention before going out hiking.
Dog hiking backpacks are extremely functional in that they can carry an array of lightweight items from medications to flashlights. Before deciding on which brand will work for you, you'll need to decide on which style you want, and most importantly, you'll need to measure your dog. That said, let's take a look at 5 of our favorite dog hiking backpack brands. Read our buyer's guide below to see our top picks for dog hiking backpacks.

Here are some key features to look out for when choosing a dog hiking backpack.
Dog Hiking Backpacks - Key Features:
Comfort

Durability

Backpack features

Lightweight construction, yet durable

Affordability

Perfect sizing

High-quality materials

Stylish
To find out which dog hiking backpack is best for you, you'll need to compare brands, consider which key features are most important to your hiking needs, and check out affordability. Most times, it's worth going over budget because you'll be using these for a while. Not only are they durable, comfortable and stylish, they give your dog what he craves the most. A job helping you while going on an adventure! Just don't forget those treats, and to balance the weight evenly between both bags. Keep in mind that your pooch can only carry 25% of his weight. This needs to be distributed evenly.
Our Top Picks 
The Hurrta Trail Pack is rugged and comfortable allowing for plenty of unrestricted movement while out hiking. The Hurrta Trail pack offers waterproof zippers, a size chart for accurate measurements, and affordable pricing. Additionally, there is a handle on top that helps in case of emergencies. 3M reflectors help to keep your doggos safe when it's misty outdoors, and during dawn and dusk. The Hurrta Trail Pack comes with a dog harness that can be separated from the backpack.
What we like about the Trail Pack:  
Removable harness

Comfortable fit

2 zip pockets on either side

Elastic holders inside saddle bags

Adjustable belt, collar and chest strap with third strap across abdomen

Front and rear clips for leash in metal

Available in 2 sizes 20-40 lbs. & 40-80 lbs.

Waterproof and durable

Can be used as a safety harness in your car

Easy to put on and take off

Eco-friendly and made from 100% recycled polyester
Cons:
Saddlebags are very large, and may be oversized for some dog breeds
The Wolf Republic Ranger Pack beats them all. Designed by a team of passionate dog parents that are passionate about the outdoors, every feature has targeted safety, comfort, durability and style. This dog backpack is designed for the active, adventure seeking pet parent that also wants comfort, safety and durability. The ergonomic design makes it dog friendly and the perfect addition to dog camping gear.
Featuring real leather and trail tough canvas, this backpack with front chest harness is not only super stylish, but extremely durable and comfortable. It holds 4 expandable pockets, front and back leash connections made with rust proof metal D-rings. Closures are magnetic, making hiking a breeze. What's great about the Wolf Republic backpack is that it's available in 3 sizes, and you can use it on smaller dog breeds weighing from 15-30 lbs., so that they too can participate in outdoor fun. 
Why we like the Ranger Pack:
High-quality leather and canvas materials

Durable, comfortable & lightweight

Padded handle with breathable mesh lining

Pet waste bag dispenser

4 Pockets that are expandable to help with storage

Our pick for best design and look over competitors

Magnetic strap closures

3 securing straps for additional security and even weight distribution

Easy to clean

Affordable

Quality backed by warranty
Cons:
Is often sold out

Not waterproof but safe to get wet
This lightweight, yet durable backpack holds out well in rugged conditions. The Kurgo Baxter is made from rugged material, and offers 8- adjustment points to ensure safety and comfort while outdoors hiking. This backpack easily helps your furry best friend carry his favorite essentials.
The Kurgo also has a handle to allow pet parents help their pooches over rough terrain and slippery rocks. With a rear mounted leash hook, this durable dog hiking backpack completes camping gear essentials for pet parents.
What we like about the Baxter Dog Backpack: 
Lightweight, safe and comfortable

Includes an integrated dog harness

Includes a reflective and padded handle

Lifetime warranty

2-sided dog pack

Includes a rear mounted leash ring
 Cons:
Sizing only starts for dogs from 30-85 lbs. and Big Baxter size 50 to 110 lbs.

Complaints of rash or burns on chest

Complaints of bags digging into sides of dogs

Complaints of bad manufacturing and seams coming undone
The web harness master frame in this rip stop nylon dog hiking backpack keeps loads stable, and prevents slipping. The Ruffwear Palisades Backpack allows for weight to be distributed evenly, and yields a weight forward design to eliminate a heavy weight load from your furry best friend's hindquarters. It's considered as one of the best dog hiking backpacks, and has many compartments for easy use. The girth allows for a width of 27-32 inches. The Ruffwear Palisades is great for overnight hiking trips, and is one of the largest dog hiking backpacks in this line.
Why we like the Palisades Pack:
Web master harness frame for equal weight balance

Extra pockets with waterproof coated zippers

High-quality fabric that is durable

Design of the backpack forces the weight forward and protects the dog's hindquarters from carrying excess weight

Saddlebag bottoms made with extra durable and waterproof material

Stylish and affordable

Padded assistance handle for comfort and safety

External gear loops

Removable saddlebags to allow for comfort during rest periods
Cons:
Backpack sewn into harness, so the harness cannot be used separately

High price tag compared to rival packs
Today, consumers are looking for high-quality camping gear for dogs. Additionally, pet parents are more in tune with the needs of their furry best friends. With health and regular exercise being an important part of everyday life, dog hiking backpacks with harnesses make for an ideal holiday gift for all.