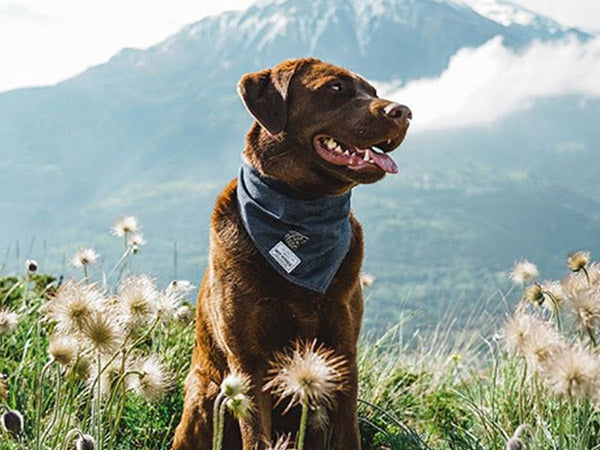 Posted on
---
Photo: @dogswiss
Dog bandanas have been around for a while and are part of a fashion trend. They're available in numerous designs and styles, with some best suited for
outdoor hiking
and others for special occasions like birthdays or Christmas. Before purchasing dog bandanas, you should always measure your dog's neck and leave enough room to tie a knot. 

An eye-catching bandana not only makes the perfect dog gift but also has many functions. Dog bandanas are great for hiking, daily activities, clubs, birthdays, photoshoots, and holiday travel.

Even the simplest dog accessories like the bandana can have a significant impact on how your pup looks. If you're like us and enjoy canine birthday parties and hiking, you'll share our enthusiasm for these beautiful canine and pet parent accessories. In this blog, we'll discuss 6 reasons why your dog should wear a bandana.
Everyday Hiking 
Some of the best activities a person and dog can do together include hiking and swimming. There are also numerous games that you can play together in your backyard without leaving your home. Leisurely or brisk walks around the neighborhood, running, playing at the dog park, biking, and swimming need a few safety precautions. Many dogs are heat sensitive, so hiking should be planned for early mornings during the summer or stick to the trails with plenty of shade.
A frozen Wolf Republic denim bandana can also keep your dog cool. Keep in mind that temperatures above 80 degrees are considered too hot for most dogs to engage in outdoor hiking trips. If you're planning on swimming with your pup in the wilderness, you'll need to protect your dog from blue-green algae and strong currents to keep him safe.
Chlorine and salt water can also dry out and irritate your dog's coat, and you'll need to rinse him off and towel dry him afterward. Trapped moisture causes skin infections, most especially in the ears. Boating and hiking make for fun outdoor activities that you can do with your dog but make sure that your dog is well trained and supervised at all times. 
How to Put a Bandana on Your Dog?
Once you've opted for the correct size and chosen the best design for the occasion, you'll need to put it on your dog. Some dogs will enjoy wearing a bandana with others not keen on their new accessory. 
The process of getting your dog used to wearing a bandana is akin to your dog wearing a collar. Using bandanas during puppyhood will help your pup get used to wearing one throughout his life. In the beginning, pups should only wear bandanas for short periods.
What to Look for in a Dog Bandana?
Bandanas need to be safe for dogs to wear. They should be made from breathable high-quality fabric that will not make your pup feel uncomfortable. The bandana fits best when it has a curved design to mimic your dog's natural neck-line. It should be designed to fit comfortably while eliminating bulk, folds, and excess fabric. Here's the take on dog bandanas:
Seamless fit with numerous sizes for all dogs breed sizes

Stretches four ways for easy "on and off" application and comfort

Easy to wash to keep your dog fresh and to fight against the notorious "wet dog" smell and bacteria

Moisture wicking

Quick drying & lightweight

Numerous prints, designs& colorway options

Priced affordably for multi-pet households.
How to Fit Your Bandana? 
It's easiest if you stand behind your pup or by his side. You should place the bandana gently underneath his chin and secure it loosely at the top of his neck. When checking to see if the fit is correct, you should be able to place two fingers between the bandana and your dog's body. If you cannot do so, the bandana is too tight, and you should adjust it immediately. Your best bet is to shop by collar size. 
Reasons to Wear a Bandana
1. Outdoor Adventure Hiking
Going for a hike with your furry best friend is one of the best experiences, but you'll need to have the right dog hiking gear. If you're considering an outdoor adventure with your dog, you should consider weather conditions and how to keep your dog protected from the elements. 
If you have an outdoor adventure dog, look for rugged colorful bandana designs to match your dog's hiking gear. Bandanas can protect your dog from sunburn and will also make people friendlier toward your pet. Dogs that have white coats or light-colored coats are more prone to sunburn.
There are numerous reasons to use a canine bandana, most especially when you're outdoors hiking with your pup. Although great as a fashion accessory, cooling bandanas to keep dogs cool during the hot summer months. You'll need to keep the fabric soaked in cold water, and as the water evaporates, it cools your pup down at the same time.
2. Ear Tip Injuries
If your pup is recovering from an injury or ear surgery, bandanas may be the perfect accessory to protect your dog's ears from sunburn, dirt, and excessive itching.
3. Night Safety
Using a reflective bandana or brightly colored one can help protect your dog when out walking at night. When used together with a reflective collar and leash, the bandana will make your pup more visible to nighttime drivers.
Shop Bandana 
4. Parasite Control
Bandanas can be coated with a flea repellent to act as a flea collar. When using it this way, you won't need to use a flea collar to deter and kill parasites. Keep in mind that some commercial parasite products may be toxic, so opt for an all-natural organic if your pup chews or licks the bandana.
Natural bug repellents need to be dog-friendly with natural ingredients to protect your dogs from pesky critters like ticks and fleas. When looking for the best natural bug repellant, look for essential oils of citronella, patchouli, catnip, and cedarwood for good results. 
5. Canine Skin Cancer
"Today, over 94% of veterinarians recommend the use of a pet sunscreen! "The muzzle and ears are the most common places to apply sunscreen," says Dr. Scanlan, via Animal Wellness. "It is impossible to use sunscreen on the nose itself because dogs will lick it off almost immediately."
Because most dogs will lick the sunscreen after application, you need something that won't harm your canine if he ingests it. Choose a product that's safe and non-toxic as well as effective. Sunscreens don't need to contain unhealthy synthetic or chemical ingredients, yet many do. Most dogs have pigmented skin," explains veterinarian Dr. Nancy Scanlan.
 "White dogs have pink skin, but most of it is protected from the sun by hair. Skin cancer from excessive exposure to the sun most often occurs in two places: the noses of white dogs or dogs with pink noses or white markings on top of the muzzle. Short-coated dogs that enjoy sunbathing while lying upside down in the sun are also more prone to skin cancer."
Of course, dogs that enjoy being outdoors, and that participate in plenty of outdoor dog sports during the summer months are most at risk for sunburn and skin cancer because they are subjected to ongoing sun exposure." 
When looking for pet-friendly sunscreens, they should contain a dog-safe oil, like coconut oil, and natural ingredients to protect against harmful UV rays like raspberry oil, arrowroot, and carrot seed oil. Any product that you apply to your pup's skin needs to be "lickably" safe if your pets lick it off.
6. Drool Control
Bandanas can also be used as drool bibs if you have a drooling breed. You can opt for numerous bandanas so that you can switch out. Drool bandanas should be made of high-quality cotton yarn to be long-lasting. They should also be easy to clean, soft, durable, and have value for money.
It's even more comfortable if you purchase adjustable bandanas that can be adjusted to match your dog's size. High-quality dog bandanas should not just make your pet look adorable but should also be gentle and long-lasting.
Final Thoughts
Like many outdoor activities during COVID, dog hiking and outdoor adventures have experienced an enormous boom recently. Pet parents want to get out of their homes more often, exercise with their pets, and follow healthy lifestyles. 
Hiking with your dog is the perfect sport, but you'll need to have all the right dog hiking gear from dog hiking leashes, collars, collapsible bowls, and of course, the perfect outdoor dog adventure bandana.
Resources https://animalwellnessmagazine.com/top-tips-to-protect-your-dog-from-the-sun/